Contents:
​​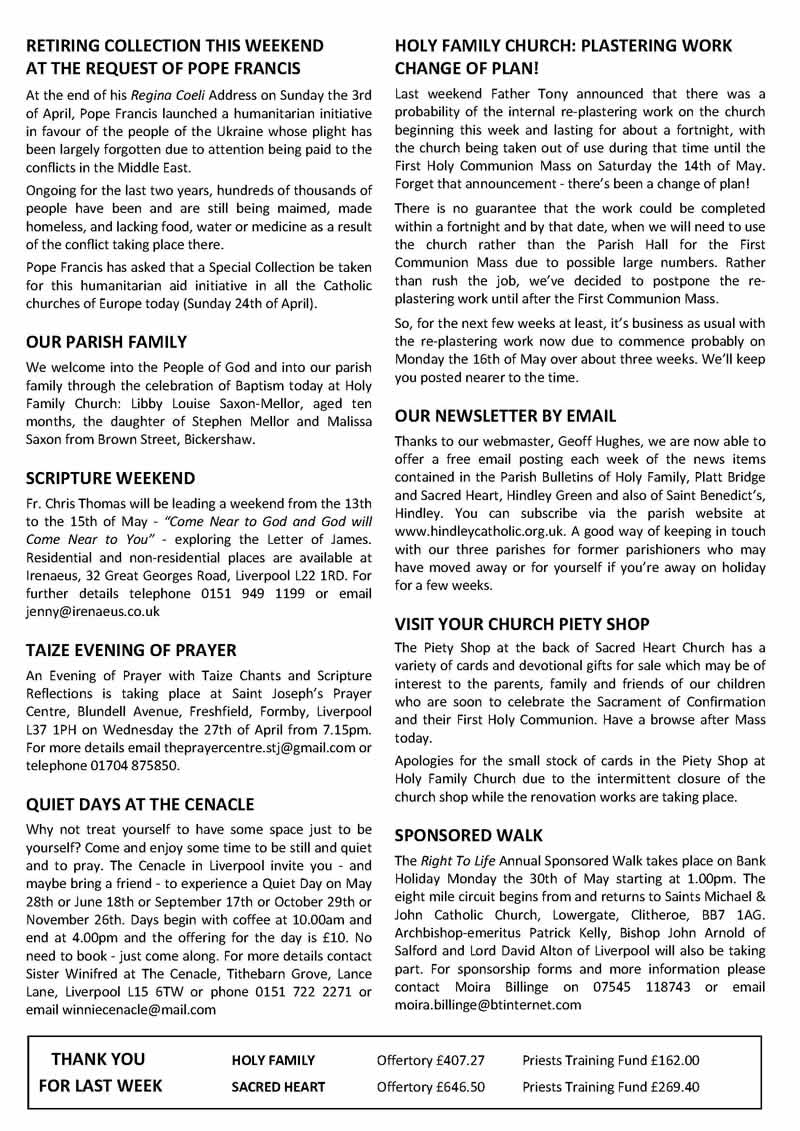 ---
Fr. Tony's Homily for Fourth Sunday of Easter (C) (VOCATIONS SUNDAY) 17th April 2016
When I was a little boy and used to go on holiday every summer with my mum and dad, we often visited some nearby stately home. And I remember being in awe at what there was to see - priceless paintings, exquisite furniture, wonderful carvings, the richness of it all. But I also remember thinking that it all seemed a little bit fake. Because it called itself a home, but it was like nothing of the sort. Back in our home there were newspapers and the TV Times lying around the place, there were clothes piled up on a chair in the corner waiting to be ironed, there was a hole in the arm of dad's chair where he'd burnt it with a cig, and there were usually crumbs all over the carpet where I'd pigged out on crisps and biscuits and not cleaned up after myself. Our home was lived in, and a bit untidy at times because it was lived in - but this stately home was a bit too tidy, more like a museum than a home, just for show.
The same is true when we talk about sheep: We can have some story-book picture of fluffy balls of wool who are shampooed and sheered and deodorized. But, as only a sheep farmer knows, sheep are smelly and sometimes a bit dim, and they can wander off and get themselves into all sorts of dangerous situations.
When we hear Jesus speak about those who belong to him, those who are his flock, we need to get out of our minds any idea of that flock being like some tidy, stately mansion, good to look at but impossible to live in. Instead, think more along the lines of a farmyard, difficult to live in, with a smell that gets up your nose at times, but bursting with life in all its complexity and with all its messiness and with opportunities for safe pasture or for peril.
And into that situation - into our situation - Jesus enters. In fact he so identifies himself with his sheep that in the Second Reading we're told that he made himself one of us, the lamb that once was slain for us, now leading us to safety and life.
Today is the World Day of Prayer for Vocations when we're asked to pray that the hearts of some of us will be open to recognise the voice of Good Shepherd Jesus, and to listen to him, and maybe even to offer themselves to him through offering themselves for Priesthood or Consecrated Life. Pope Francis has said that priests should be "shepherds living with the smell of the sheep", close to those in the flock who are marginalised, or who have wandered off and become vulnerable, or who have got themselves lost: But he also expanded his "smelly shepherd" analogy to apply not just to priests but to all of us: The Church should be an evangelising community, he said, which gets itself involved in the messy and messed-up lives of others. The Church must have "the smell of the sheep", not be a museum or like a stately home, just for show and holding the treasures of a bygone age: We are to be a community of people, belonging to Good Shepherd Jesus, listening to his voice, knowing him and being known by him, who care about the world in which we live, who care about the people among whom we live, and especially those most in need. On another occasion Francis described the Church as being a field hospital where the wounded and broken know they can have their wounds bandaged and their brokenness healed. And we must be that Church, he says.
We could spend today just moaning about the shortage of priests in our part of the world, and regret how things are not as they were in the past, and pray to God to plug the gap - as we often seem to do. Or we could use this Day of Prayer to commit ourselves to listening out for and following the voice of the Shepherd more clearly, being sheep of the flock of Jesus, but also sharers with him in his mission of bringing new life and fresh hope into the world. Because the shared vocation of us all is to live out the commission we heard Jesus give to Peter last week on behalf of all: "Feed my sheep: Look after my lambs". And maybe from such a community, the Lord will move the hearts of some of us, even just one of us, to open themselves to accept the call to priesthood
---
WEEKEND FOR MEN
The 2016 Harvesters Weekend for Men takes place from Friday the 8th to Sunday the 10th of July at High Leigh Retreat Centre, Hoddesdon, Hertfordshire. Speakers will include David Payne and Fr. Mark white CP. A chance to be refreshed, encouraged and challenged in your Catholic faith.
Further details from www.harvesters.org.uk