Contents:
N.B There will be no Online Newsletter next weekend as this edition covers two weeks
---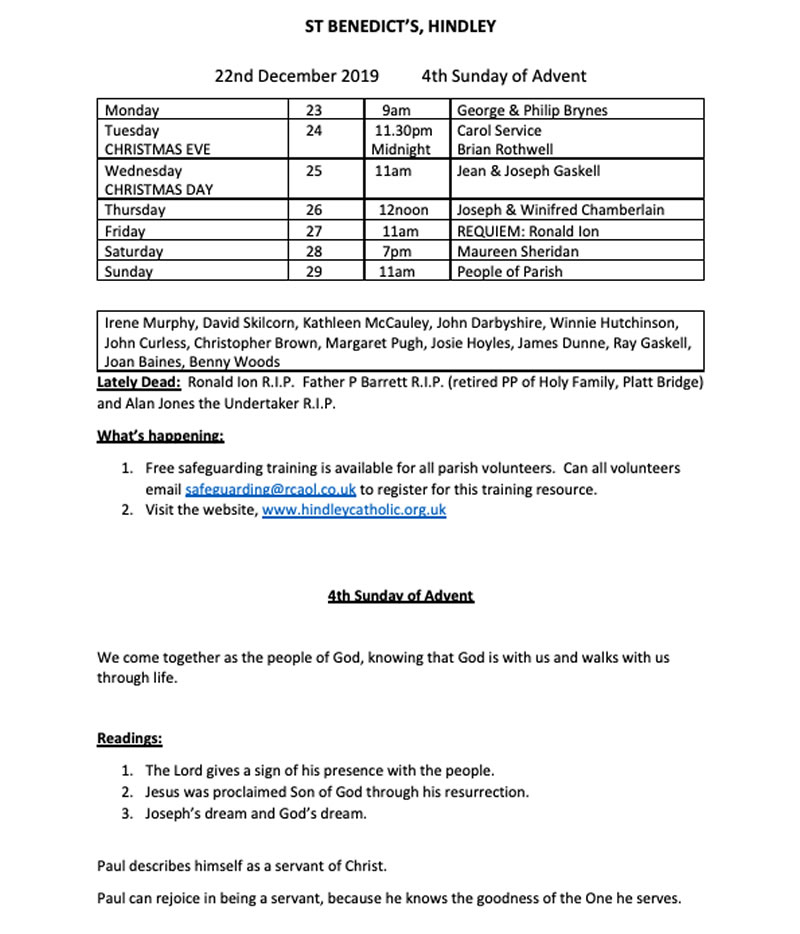 ---
This Sunday's Readings


FIRST READING

            

From the book of the Prophet Isaiah (7:10-14)
The Lord spoke to Ahaz and said, "Ask the Lord your God for a sign for yourself, coming either from the depths of Sheol or from the heights above." "No" Ahaz answered. "I will not put the Lord to the test." Then Isaiah said: "Listen now, House of David: are you not satisfied with trying the patience of men without trying the patience of my God, too? The Lord himself, therefore, will give you a sign. It is this: the maiden is with child and will soon give birth to a son whom she will call Emmanuel, a name which means: God-is-with-us."



SECOND READING

        

From the Letter of Paul to the Romans (1:1-7)
From Paul, a servant of Christ Jesus who has been called to be an apostle, and specially chosen to preach the Good News that God promised long ago through his prophets in the scriptures. This news is about the Son of God who, according to the human nature he took was a descendant of David: it is about Jesus Christ our Lord who, in the order of the spirit, the spirit of holiness that was in him, was proclaimed Son of God in all his power through his resurrection from the dead. Through him we received grace and our apostolic mission to preach the obedience of faith to all pagan nations in honour of his name.
You are one of these nations, and by his call belong to Jesus Christ. To you all, then, who are God's beloved in Rome, called to be saints, may God our Father and the Lord Jesus Christ send grace and peace.




GOSPEL READING

        

From the Gospel according to Matthew (1:18-24)
This is how Jesus Christ came to be born. His mother Mary was betrothed to Joseph; but before they came to live together she was found to be with child through the Holy Spirit. Her husband Joseph; being a man of honour and wanting to spare her publicity, decided to divorce her informally. He had made up his mind to do this when the angel of the Lord appeared to him in a dream and said, 'Joseph son of David, do not be afraid to take Mary home as your wife, because she has conceived what is in her by the Holy Spirit. She will give birth to a son and you must name him Jesus, because he is the one who is to save his people from their sins.'
Now all this took place to fulfil the words spoken by the Lord through the prophet: The virgin will conceive and give birth to a son and they will call him Emmanuel, a name which means 'God-is-with-us'.
When Joseph woke up he did what the angel of the Lord had told him to do: he took his wife to his home.
---
Sunday Reflection 4th Sunday in Advent

Regeneration

The Scripture for this 4th Sunday of Advent refers to God's intervention in the regenerative process which he initiated. The prophet Isaiah (First Reading 7:10-14) and Matthew's Gospel extract (1:18-24) tell of God's additional regeneration, in the sense of his adding to, what he has already created. Theologically speaking the word 'creation' is uniquely applicable to God; as only God can create. We humans, as God's empowered creation, discover ways of re-fashioning existent material. We believe that all presently existent matter, as well as all future scientific and technological development, is and will be the re-composition of what is already in existence in some form or other.
God, the author of life, has no beginning or end; therefore, life is continuous. All life on earth originates with God, including human life, and is in a continuous process of regeneration. According to researchers, the human body replaces itself with a largely new set of cells every seven to ten years. Some of our most important parts are revamped even more rapidly [source: Stanford University, Northrup]. Through our faith in God we, his human creation, believe ourselves to be at the heart of a Divinely initiated continuing process of regeneration that involves the spiritual, physical, material and ecological.
The Incarnation - God's becoming Man (today's Gospel) in the person of Jesus of Nazareth - is the zenith of God's creation, that we know of. St. Paul, writing to the converts to Christianity in Colossae (3:1-11), makes the point:
"Since, then, you have been brought back (through Baptism) to true life with Christ, set your hearts on things above, where Christ is, seated at the right hand of God. Set your minds on things above, not on earthly things. For you died, and your life is now hidden with Christ in God. When Christ, who is your life, appears, then you also will appear with him in glory….
you have taken off your old self, with its practices, and have put on your new self, which is being renewed in the image and the knowledge and love of its Creator.
Here there are no Gentiles or Jews, no circumcised or uncircumcised, no barbarians, Scythians, slaves or free, but only Christ who is all, and is in all."
The prospect of regeneration brings, in its wake, expectation. We have learnt that the planting and nurturing of a seed brings the expectation of new growth. Jesus, in his teaching, explained the Kingdom of Heaven in the parable of the 'Growing Seed' (Mark 4:26-29):
"Jesus also said, "This is what the kingdom of God is like. A man scatters seed on the ground. Night and day, whether he sleeps or gets up, the seed sprouts and grows, though he does not know how. All by itself the soil produces grain--first the stalk, then the head, then the full kernel in the head. As soon as the grain is ripe, he puts the sickle to it, because the harvest has come."
Thanks to the benefits of prolonged research we now know more of the regenerative process than did our ancestors. There is the expectation that our and successive generations will demonstrate, as a consequence, an advanced respectful and responsible attitude for the total care of humanity and all earth's creatures. We are stewards, not masters. Such total care does not necessarily sit comfortably alongside a profits-led economy.
Throughout history, humanity has, up to the present, given thanks to a Superior Being, whom Christians and others identify as God, as being the originator of all regeneration. Sadly, harvest festivals have become more of a pageant than an act of thanksgiving to God. In the four weeks of Advent, we have been encouraged to give thanks to God for continuing his regeneration of ourselves and of our world, despite our frequent selfish misappropriation of his goodness. Clearly, not all the uses to which we put our reconstituted discoveries fit within the parameters of God's providence and Law. Yet our heavenly Father continues to regenerate us because of his abiding love. A verse, in a hymn for the September 14th feast of the 'Exaltation of the Cross', has these words:
'He, our Maker, deeply grieving
that the first-made Adam fell
when he ate the fruit forbidden
whose reward was death and hell,
marked e'en then this Tree
the ruin of the first tree to dispel.'
God sent his Son to take away the sin that continues to be generated in our world; a sin that so seriously and tragically impedes humanity's true regeneration of its likeness to God. Jesus invites our willing and loving contribution not only in Advent and Lent but on every day of the year -
"Then Jesus said to them all: "Whoever wants to be my disciple must deny themselves and take up their cross daily and follow me." (Luke 9:23)
Contrition is not a 'Christmas' word is it? But our contriteness is what our Infant King most desires from us.
As the prospect of Christmas nears, the material and social expectations for so many become unreal, as well as unbearable, at the incessant drumbeat of the commercial and advertisement industries. How will you choose to thank God for his regeneration of you and yours this Christmas?
---