Contents: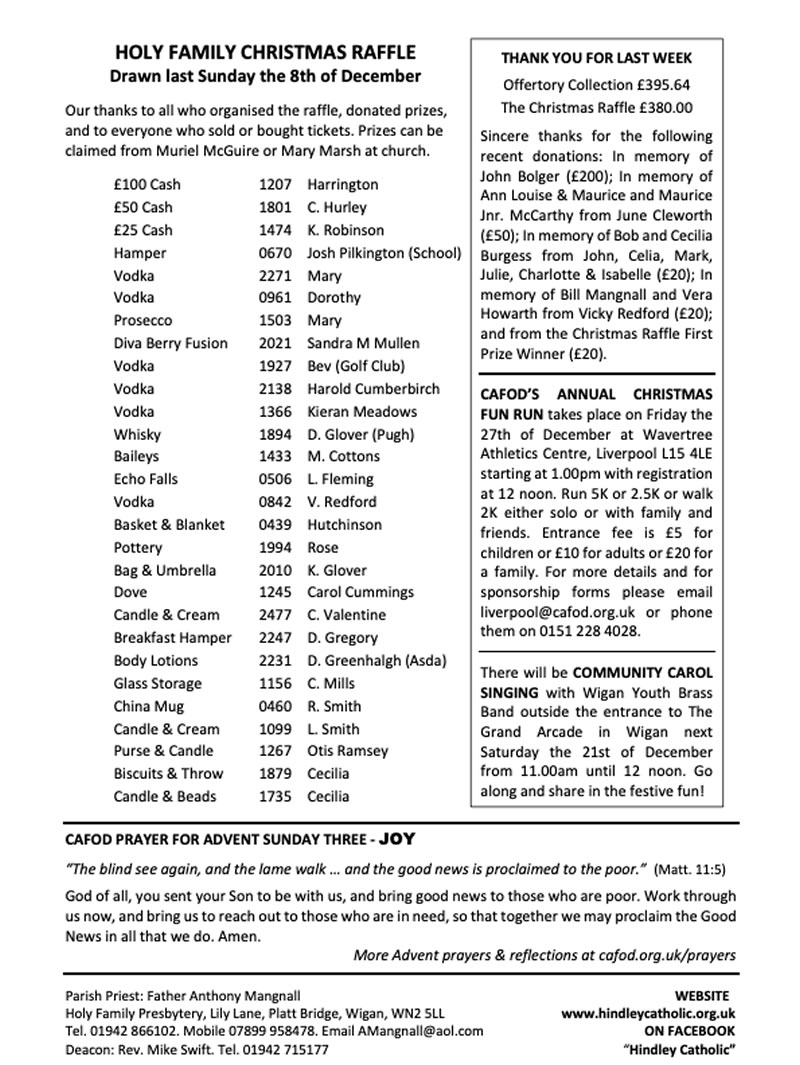 ---
---
This Sunday's Readings


FIRST READING

       

From the book of the Prophet Isaiah (35:1-6.10)
Let the wilderness and the dry-lands exult, let the wasteland rejoice and bloom, let it bring forth flowers like the jonquil, let it rejoice and sing for joy. The glory of Lebanon is bestowed on it, the splendour of Carmel and Sharon; they shall see the glory of the Lord, the splendour of our God. Strengthen all weary hands, steady all trembling knees and say to all faint hearts, 'Courage! Do not be afraid. Look, your God is coming, vengeance is coming, the retribution of God; he is coming to save you.' Then the eyes of the blind shall be opened, the ears of the deaf unsealed, then the lame shall leap like a deer and the tongues of the dumb sing for joy, for those the Lord has ransomed shall return. They will come to Zion shouting for joy, everlasting joy on their faces; joy and gladness will go with them and sorrow and lament be ended.



SECOND READING

     

From the Letter of James (5:7-10)
Be patient, brothers, until the Lord's coming. Think of a farmer: how patiently he waits for the precious fruit of the ground until it has had the autumn rains and the spring rains! You too have to be patient; do not lose heart, because the Lord's coming will be soon. Do not make complaints against one another, brothers, so as not to be brought to judgement yourselves; the Judge is already to be seen waiting at the gates. For your example, brothers, in submitting with patience, take the prophets who spoke in the name of the Lord.



GOSPEL READING

      

From the Gospel according to Matthew (11:2-11)
John in his prison had heard what Christ was doing and he sent his disciples to ask him, 'Are you the one who is to come, or have we got to wait for someone else?' Jesus answered, 'Go back and tell John what you hear and see; the blind see again, and the lame walk, lepers are cleansed, and the deaf hear, and the dead are raised to life and the Good News is proclaimed to the poor; and happy is the man who does not lose faith in me'.
As the messengers were leaving, Jesus began to talk to the people about John: 'What did you go out into the wilderness to see? A reed swaying in the breeze? No? Then what did you go out to see? A man wearing fine clothes? Oh no, those who wear fine clothes are to be found in palaces. Then what did you go out for? To see a prophet? Yes, I tell you, and much more than a prophet: he is the one of whom scripture says: Look, I am going to send my messenger before you; he will prepare your way before you. I tell you solemnly, of all the children born of women, a greater than John the Baptist has never been seen; yet the least in the kingdom of heaven is greater than he is.'
---
Sunday Reflection 3rd Sunday in Advent

There's More to a Desert Than Sand

At the mention of a desert, people's imagination conjures up endless sand dunes. A desert is mentioned in both the First Reading (Isaiah 35:1-6,10) and the Gospel (Matthew 11:2-11) for this 3rd Sunday of Advent. There are, however, deserts without sand. If you look back at the 70s and 80s you will find evidence of 'food deserts' in European cities. Then, local small food shops had been put out of business by large, price-undercutting, out-of-town supermarkets. One unanticipated consequence was that semi-immobilised and housebound city dwellers were unable to buy nourishing food in their immediate locality. Elderly and long-term sick people were becoming seriously malnourished and, as a consequence, swelling the numbers in hospital A&E departments. Urban 'food deserts' were identified as the cause and the government of the day launched an investigation.
This century there's evidence of the growth of 'faith deserts'. They are reappearing in both Europe's cities and countrysides. Their existence is camouflaged by the numerous churches, with their distinctive steeples, that still cover the landscape. But these buildings are now often used for secular purposes or have become tourist attractions. Those churches still welcoming worshippers have shrinking elderly congregations. Sunday, as the Lord's Day, has long since been successfully subsumed by rampant commercialisation and consumerism. The spiritual malaise of a 'faith desert' is not new. In the Book of Wisdom, long associated with King Solomon (970-931BC), we read:
"The reasonings of mortals are unsure and our intentions unstable; for a perishable body presses down the soul, and this tent of clay weighs down the teeming mind." (9:13-15)
When God became visible among us in the person of Jesus, many Jews had become used to observing the externals of their religious practice for political purposes. They were an occupied people struggling to retain their ethnic identity which was inseparable from their religious practice.
How many Christians today, including Catholics, have an insufficiently shallow appreciation of how their predecessors struggled to remain loyal to their Baptismal promises? For countless Catholics back then, the cost was not just their livelihood but their life itself. Are young Catholics in this 21st century aware that from the reign of Henry Vlll (1507-1545) there was progressive legislation prohibiting the practising of the Catholic Religion in Britain and Ireland? Are they aware that their Roman Catholics predecessors, over those centuries, were deprived of their vote, their right to hold public office and to own land?
It was not until 1766 that the Penal Laws, as they were called, began, very slowly, to be dismantled. Penal Laws, as the name implies, penalized those who lived by the teaching of the Roman Catholic Church and imposed stringent civil disabilities on Catholics who did so. This protracted period of active persecution forced faithful Roman Catholics to hide and disguise their fidelity to Catholicism. Are we, the Roman Catholic community of this 21st century, sufficiently alive to the fact that our freedom of worship today is in no small part due to the blood shed by many of our predecessors, from that era, who suffered martyrdom in the centuries of persecution?
"I would never have known you were a Roman Catholic." Sometimes this response greets the revelation by a Roman Catholic of his/her membership of the Catholic Church. The response, itself, could be said to pose a question; namely, has the Catholic friend, colleague, neighbour blended-in so well with society that his/her faith is invisible? But then, if our daily living of our Catholic faith is invisible, can we said to be fulfilling our Baptismal undertaking to promote the Gospel? Advent is an appropriate time for us, as the Baptised, to review what should be the visibility to our neighbour of our Christian faith in God.
Stalwarts setting out to cross a desert prepare with care. In addition to the appropriate training for physical fitness, there is the making of extensive preparations and the gathering of all manner of provisions. The same applies when Christians face a faith-desert. In the first place there is the need to recognise the faith-desert that exists. For the people of previous generations there had been an almost tangible sense of a national belief in God. Words and phrases such as 'prayer', 'please God', 'God willing' were regularly heard in general conversation. You rarely hear these words and phrases in use today, unless you happen to speak them. I recently said to a friend's young child who was heading to bed "Good night ----- and God bless you." The child, who knows me well enough as a family friend, looked mystified by those last four words - 'and God bless you'. It was as if I had switched to speak in a foreign language. Yet that child is Baptised (as is the father) and attends a Catholic primary school.
The child's mystification made me look around the living room. There was nothing in sight that would identify this as a Christian home or link this family with a larger believing community. I had not previously noted the absence of a crucifix. There were no Baptismal or First Holy Communion family photographs. It brought home to me that my friends and I, despite the frequency of our conversations, had never discussed the subject of faith in God. How successfully the inroads made by the faith-desert had obliterated so many external traces of this family being a family of faith.
By now you may have chosen your Christmas greeting cards. Do they convey your belief in the centrality of Christ to the celebration of Christmas to your family and friends? If not, should you be sending them? Your Baptism has gifted you with a Divine adoption. You are an adopted son or daughter of God your Father. Surely, your allegiance to God takes precedence over all other relationships? Your non-believing relatives and friends, knowing you, will recognise that you are a person of faith in God and your choice of greeting will not surprise them.
The devilment of living in a faith-desert is that it is all too easy to lose sight of the desert's reality just because there are no sand dunes!
---