Contents: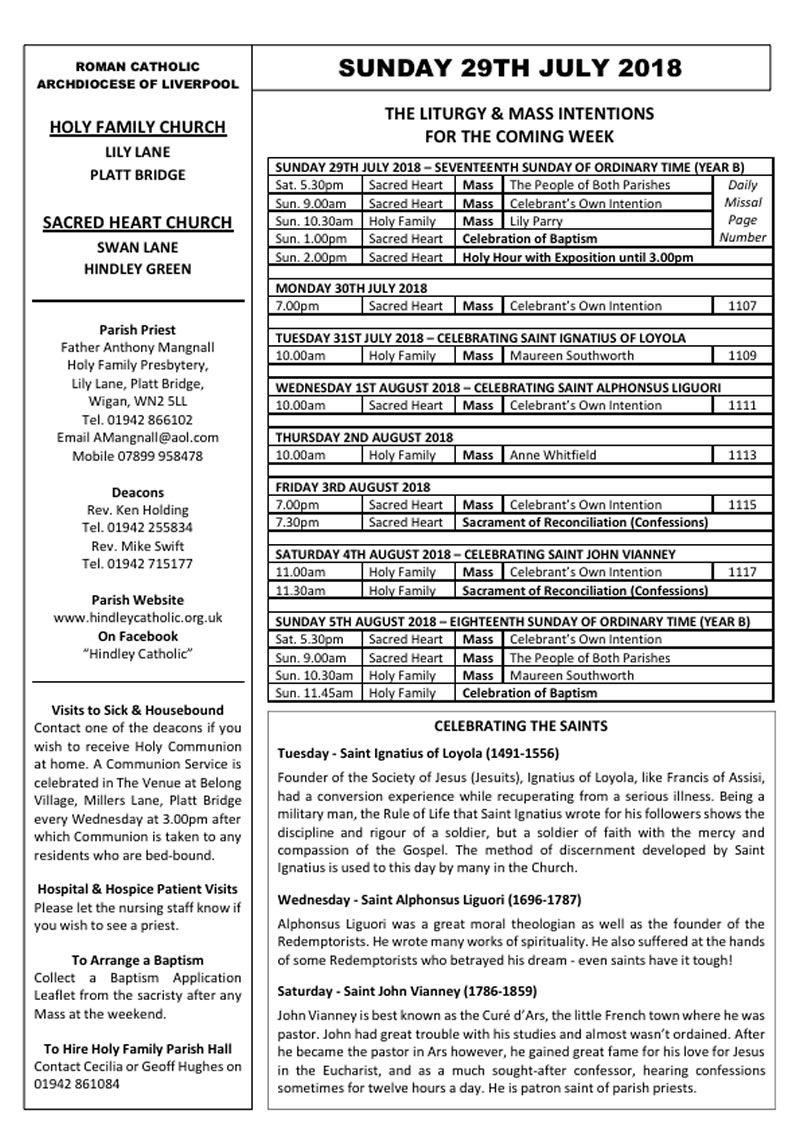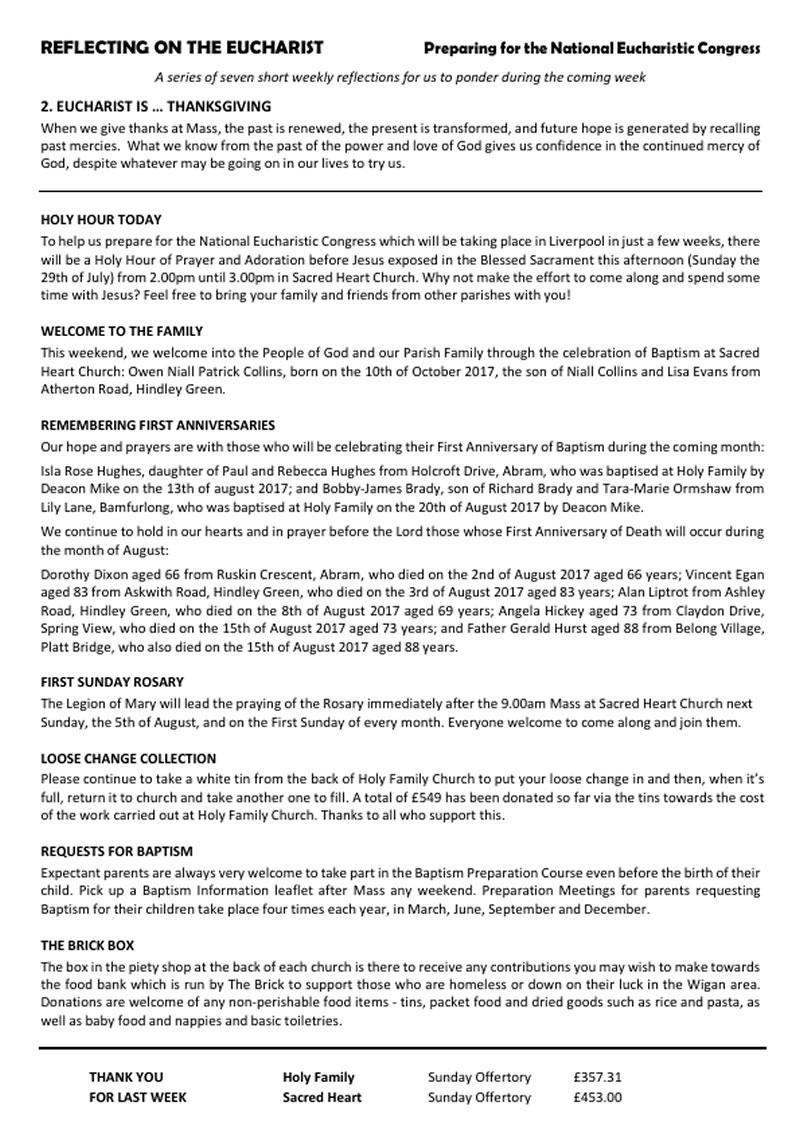 ---
St Benedict's Newsletter is not available
---
This Sunday's Readings


First Reading

 

           2 Kings (4:42-44)
A man came from Baal-shalishah, bringing Elisha, the man of God, bread from the first-fruits, twenty barley loaves and fresh grain in the ear.' 'Give it to the people to eat', Elisha said. But his servant replied, 'How can I serve this to a hundred men?' 'Give it to the people to eat' he insisted 'for the Lord says this, "They will eat and have some left over."' He served them; they ate and had some left over, as the Lord had said.



Second Reading

 

       Ephesians (4:1-6)
I, the prisoner in the Lord, implore you to lead a life worthy of your vocation. Bear with one another charitably, in complete selflessness, gentleness and patience. Do all you can to preserve the unity of the Spirit by the peace that binds you together. There is one Body, one Spirit, just as you were all called into one and the same hope when you were called. There is one Lord, one faith, one baptism, and one God who is Father of all, over all, through all and within all.





Gospel Reading




A reading from the holy Gospel according to John (6:1-15) 
Jesus went off to the other side of the Sea of Galilee - or of Tiberias - and a large crowd followed him, impressed by the signs he gave by curing the sick. Jesus climbed the hillside, and sat down there with his disciples. It was shortly before the Jewish feast of Passover. Looking up, Jesus saw the crowds approaching and said to Philip, 'Where can we buy some bread for these people to eat?' He only said this to test Philip; he himself knew exactly what he was going to do. Philip answered, 'Two hundred denarii would only buy enough to give them a small piece each.' One of his disciples, Andrew, Simon Peter's brother, said, 'There is a small boy here with five barley loaves and two fish; but what is that between so many?' Jesus said to them, 'Make the people sit down.' There was plenty of grass there, and as many as five thousand men sat down. Then Jesus took the loaves, gave thanks, and gave them out to all who were sitting ready; he then did the same with the fish, giving out as much as was wanted. When they had eaten enough he said to the disciples, 'Pick up the pieces left over, so that nothing gets wasted.' So they picked them up, and filled twelve hampers with scraps left over from the meal of five barley loaves. The people, seeing this sign that he had given, said, 'This really is the prophet who is to come into the world.' Jesus, who could see they were about to come and take him by force and make him king, escaped back to the hills by himself.
---
Sunday Reflection 17th Sunday in Ordinary Time (29.07.18)

Generosity - Infinite or Finite

The depth of selfless generosity shown to us can take our breath away. When such behaviour in another seems almost natural it can raise challenging questions within us as well as widen our horizons. For example, amongst the appalling events of the Holocaust are accounts of overwhelming generosity. One example, among many, can be found in the life and death of (St.) Maximilian Maria Kolbe (1894-1941), a Polish Franciscan friar who volunteered to die in a gas chamber in place of a stranger in the German death camp of Auschwitz. Had I been there, would that have been my choice?
The quality of generosity does not equate with the cash in one's pocket, however much that may be. Jesus exemplifies it, to the probable amazement of his in-training disciples, in Luke 21:1-4:
As Jesus looked up, he saw the rich putting their gifts into the temple treasury. He also saw a poor widow put in two very small copper coins. "Truly I tell you," Jesus said, "this poor widow has put in more than all the others. All these people gave their gifts out of their superfluous wealth; but she in her poverty put in all she had to live on."
Faith in depth, not fortune, is required if we are to be truly generous.
In other words, when our conscience promotes a generous impulse we have to guard against stopping to measure the cost in terms of the consequences for self. To measure the cost and the consequences for self is to risk diminishing the effect of that graced moment for both the recipient and for self. It was Maximilian Maria Kolbe's depth of love for Christ that empowered his volunteering to die. For, in that gas chamber death was not instant. Fr Kolbe ministered to those with whom he was dying until he could do no more.
We also have to guard against being generous for our own greater glory. Again, Jesus exemplifies his teaching in Matthew 23:
"Then Jesus said to the crowds and to his disciples, "The scribes and the Pharisees sit on Moses' seat, so do and observe whatever they tell you, but not the works they do. For they preach, but do not practice … They do all their deeds to be seen by others … they make their phylacteries broad and their fringes long, and they love the place of honour at feasts and the best seats in the synagogues and greetings in the marketplaces and being called rabbi by others."
There is one commodity with which we may be gratuitously generous because it is not our own! I refer to the Grace of God. Baptism calls us to be both recipients and conduits of this infinite Divine resource. The more generous we are with God's grace, the more he replenishes it within us. Neither the prophet Elisha, in this Sunday's First Reading (2 Kings 4:43-44) nor Jesus in the Gospel - St. John (6: 1-15) - display any hesitation on being stupendously generous with God's grace.
Whereas we, entrapped as we are within a system which requires us to have constant reference to quantitative numbers and measurements, focus more on the just twenty barley loaves (the earliest sprouting crop bringing relief to a hungry people) than on the 100 people needing nourishment. In the Gospel, we are more likely to home-in on the five barley loaves and two dried fish than the crowd of five thousand men - to say nothing of women and children - so therefore, upwards of ten thousand in all.
We are not living and acting through faith if, in our giving, we first measure and quantify our own needs and then determine what might be spare. God's grace is never ours. Always, it belongs to God. We are merely custodians of God's gratuitous generosity. If he wishes us to channel to others all that he has given to us, what right have we to, futilely, attempt to 'cream some off' for ourselves? If such action were acceptable then, quite possibly, Maximilian Maria Kolbe would never have chosen to walk to that gas chamber and countless thousands of martyrs, named as well as unknown, may not have witnessed to Jesus Christ by the laying down their lives in defence of His Truth and generosity.
This 16th. Sunday of the year marks the start of five successive Sundays when the Gospel extracts come from John's chapter 6. You may be already aware that John, in his Gospel, gives no account of the Institution of the Eucharist, by Jesus, at the Last Supper. Instead, John's focus at the Last Supper is on Jesus washing his disciples' feet (John 13).
John reveals to us the fullness of Jesus' teaching on his Real Presence in the Eucharist in chapter 6 of his Gospel - extracts from which are read this year in the Gospels from the 17th to the 21st Sunday inclusive. From John's Gospel it is clear that the Institution of the Eucharist, by Jesus at the Last Supper, brought to completion the teaching he had been sharing with the twelve and the people over their years together.
What images do our memories hold of 'The Last Supper"? Were we able, how would we draw the scene from our deeply entrenched images? More to the point, would we include the 'foot washing'? Were we to do so, would we give the foot washing an exposure equal to the table of the 'Breaking of the Bread'? If our answer is 'no' or 'I'm not sure, because I've never thought of that before', what does such a response reveal? Occasionally, late medieval artists of 'The Last Supper' put a jug and basin the foreground of their paintings but only a fraction of viewers would have linked the narratives. Even fewer, probably, would make the connection today.
Memory is usually thought of as a matter of the mind but we always enact our deepest memories. We remember because we have repeated something over and over. What we do regularly becomes part of us. Foot washing, in Jesus' day, was the work of a slave. Jesus washed his disciples' feet to teach them what they were to do. Jesus was explicit in his instructions:
"Do you understand what I have done for you?" he asked them. "You call me 'Teacher' and 'Lord,' and rightly so, for that is what I am. Now that I, your Lord and Teacher, have washed your feet, you also should wash one another's feet. I have set you an example that you should do as I have done for you. Very truly I tell you, no servant is greater than his master, nor is a messenger greater than the one who sent him. Now that you know these things, you will be blessed if you do them." (John 13:12-17)
St. Maximilian Maria Kolbe metaphorically washed the feet of those with whom he was going to die in the gas chamber; he washed the feet of the man whose life he saved that day; he washed the feet of the guards who ran that extermination camp. He must have been a habitually humble priest and a wonderfully effective conduit for God's grace.
At the start of these five Sundays, when we are celebrating John's Gospel chapter 6, might it be appropriate for us, as a mark of our personal gratitude to God for gifting us with such infinite grace in our daily lives, were we to ask ourselves if we have, metaphorically, washed another's feet? It would be a challenging thought for us to reflect upon as we walk down the aisle to receive God's infinite generosity that is The Eucharist - especially as some form of 'foot washing' does not feature in the Liturgy of the Mass.