Contents: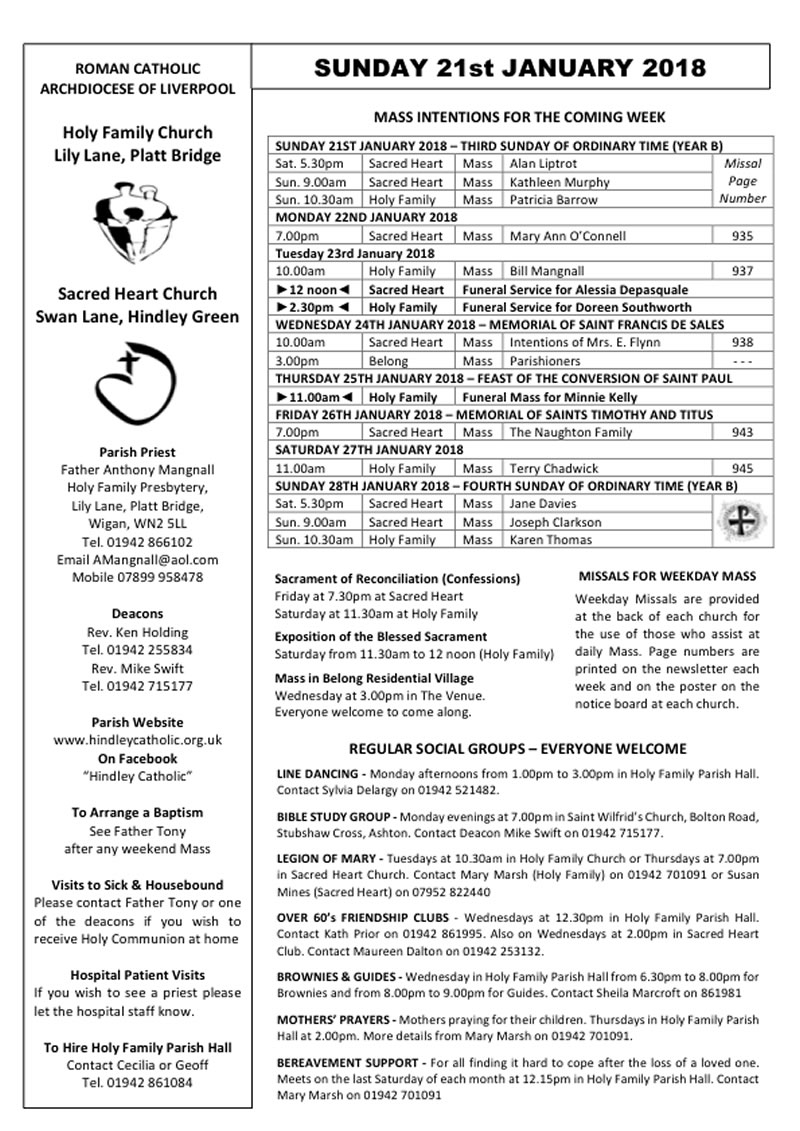 ---
---
This Sunday's Readings


First Reading

 

                           Jonah 3:1-5.10
The word of the Lord was addressed to Jonah: 'Up!' he said 'Go to Nineveh, the great city, and preach to them as I told you to.' Jonah set out and went to Nineveh in obedience to the word of the Lord. Now Nineveh was a city great beyond compare: it took three days to cross it. Jonah went on into the city, making a day's journey. He preached in these words, 'Only forty days more and Nineveh is going to be destroyed.' And the people of Nineveh believed in God; they proclaimed a fast and put on sackcloth, from the greatest to the least.
God saw their efforts to renounce their evil behaviour. And God relented: he did not inflict on them the disaster which he had threatened.



Second Reading

 

                        I Corinthians 7:29-31
Brothers: our time is growing short. Those who have wives should live as though they had none, and those who mourn should live as though they had nothing to mourn for; those who are enjoying life should live as though there were nothing to laugh about; those whose life is buying things should live as though they had nothing of their own; and those who have to deal with the world should not become engrossed in it. I say this because the world as we know it is passing away.



Gospel Reading                            Mark 1:14-20
After John had been arrested, Jesus went into Galilee. There he proclaimed the Good News from God. 'The time has come' he said 'and the kingdom of God is close at hand. Repent, and believe the Good News.'
As he was walking along by the Sea of Galilee he saw Simon and his brother Andrew casting a net in the lake - for they were fishermen. And Jesus said to them, 'Follow me and I will make you into fishers of men.' And at once they left their nets and followed him.
Going on a little further, he saw James son of Zebedee and his brother John; they too were in their boat, mending their nets. He called them at once and, leaving their father Zebedee in the boat with the men he employed, they went after him.
---
Sunday Reflection 3rd Sunday in Ordinary Time (21.01.18)

The Call

Some parents call/talk to their prenatal child. They believe their future child will thereby be helped to recognise their voices. Mary, the Mother of God-made-Man, interacted with the future John the Baptiser, then in Elizabeth's womb, through the gift of the Holy Spirit. St. Luke recalls Elizabeth responding to Mary's greeting (1:44)
" For as soon as the sound of your greeting reached my ears,
the baby in my womb leaped for joy.
Blessed is she who has believed that the Lord's word to her will be fulfilled."
The three Scripture Readings for this 3rd Sunday of the Year reflect the different ways in which God calls to us, his much loved and adopted family. His call predates our conception and is the lifeline of the eternal love without which we are adrift.
In Isaiah 49:15-16 we read:
"Does a woman forget her baby at the breast, or fail to cherish the child of her womb, yet even if these forget, I will never forget you. See I have branded you on the palms of my hands."
And in Jeremiah 1:5 we read:
"Before I formed you in the womb I knew you, And before you were born I consecrated you; I have appointed you a prophet to the nations."
Once born, an infant learns to recognise the voices of its parents and, little by little, the voices of other relatives. This very early stage in their child's life can be pure joy for parents because of the love, trust and infant sense of wellbeing with which their child responds to their voices.
However, this period of bliss is short-lived. All too soon the developing infant is exposed to the calls from people other than parents and siblings. There are the extended family, child-minders, nursery attendants, neighbours and then the floodgates open of school life but also of the internet! Parental voices are still recognised but now have to withstand ever increasing competition - as does God's call of eternal love.
It is never too early for parents to help their child begin to learn about God's call. Baptism is the gateway through which parents enable their infant to learn of the Holy Spirit. It is their means of building the eternal relationship that God has always had with their child. Many unpredictable factors will influence their infant as it grows into an adult. Nevertheless, the child that is encouraged by its parents to share some of the time they give each day to God will have a head start in building his or her own personal relationship with their heavenly Father.
The infant is also beginning to discover the wonder of choice. A parental voice calls the child's name when the infant is fully occupied playing with a favourite toy. Whereas previously the child's response to a parental call would have been more or less instantaneous, now there may be a delay. The child is learning about choice. Parents may respond by introducing small tasty temptations of food or drink to win their child's collaboration. While the parent may forget the moment, the child does not!
Ideally, the bond of mutual love will motivate an offspring to collaborate with parents but that love has to be 'a two-way street', as they say. These days it's not uncommon to see a child, in a push chair propelled by a parent, being completely ignored because the parent is chatting on a mobile! Being present is not the same as being engaged.
In former times, there was a regularity and rhythm to life that the '24x7' fractious lifestyle of the post- war years has seen disappear.
That former predictability acted as something of a secure backdrop helping to cushion life's unexpected events. Where, previously, home was a secure sanctuary, it has become for so many children something akin to a battlefield where the main protagonists are the parents, one of whom may not even share the house.
The reverberations of a fractured homelife ripple out to relatives. Close relatives would have been expected to show support for parental decisions when interacting with children, whether the parents are present or not. When this influence is disrupted by parental break-up children lose the continuity of influence shown by a variety of faces. The child may wonder why the call of the heavenly Father is no longer heard by all the family.
God's will is that his call to each should be echoed by all and given expression by speech and behaviour both individual and corporate. Whereas, today, so many children live surrounded by discord in one form or another that it has become the norm! Much popular television daily relays unending stories of discord, betrayal and disharmony to our homes to be watched by children of all ages.
This Sunday's 1st Reading tells of a nervous prophet Jonah preaching God's warning to the citizens of Nineveh (Jonah 3:1-5,10):
"Forty days more and Nineveh shall be destroyed…"
To Jonah's surprise the citizenry listened, believed and repented and were spared by God.
Likewise, St. Paul, 2nd Reading, warns his small Corinthian Christian community (7:29-31)
"…. the time is running out….
The world in its present form is passing away."
Jesus, in St. Mark's Gospel (1:14-20) begins his public ministry by proclaiming:
"This is the time of fulfilment. The kingdom of God is at hand. Repent, and believe in the gospel."
The Scriptures are gifted by God to instruct us how to recalibrate our daily lives. Sunday Mass may be the only time in the week that many a person hears God's word. On the other six days, we are pummelled by a world adrift from God and it is all too easy to lose our moorings!
The Readings for this 3rd Sunday are as much a commentary on 2018 as they were a commentary on the pre-Christian era (Jonah) and the early Christian era of Jesus followed by Paul, when they were first proclaimed. God's Word calls us to his unblemished Truth in our self-imposed exile. Our first parents would have heard it, initially, without distraction. Then Evil came calling and the rest is, as they say, history except that in this instance the history is now the present.