Contents: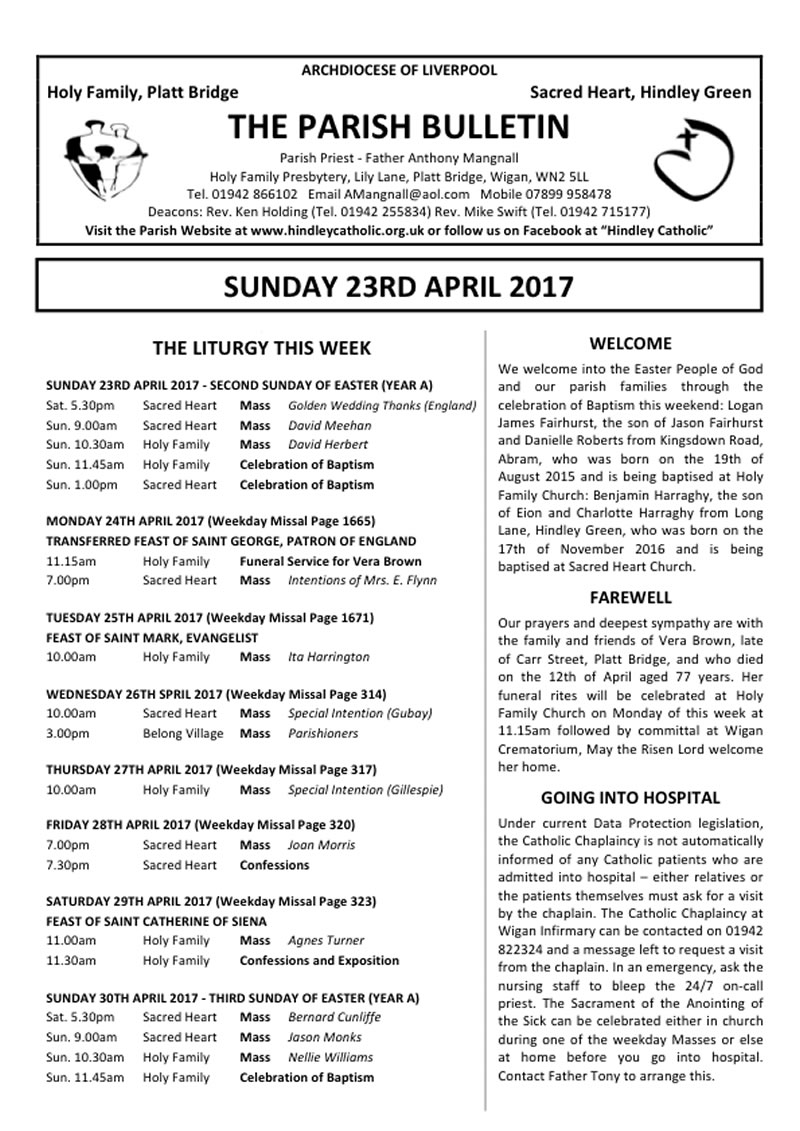 ---
St Benedict's Newsletter was not available at the time of publication
---
This Sunday's Readings

The whole community remained faithful to the teaching of the apostles, to the brotherhood, to the breaking of bread and to the prayers. The many miracles and signs worked through the apostles made a deep impression on everyone.
The faithful all lived together and owned everything in common; they sold their goods and possessions and shared out the proceeds among themselves according to what each one needed. They went as a body to the Temple every day but met in their houses for the breaking of bread; they shared their food gladly and generously; they praised God and were looked up to by everyone. Day by day the Lord added to their community those destined to be saved.
Blessed be God the Father of our Lord Jesus Christ, who in his great mercy has given us a new birth as his sons, by raising Jesus Christ from the dead, so that we have a sure hope and the promise of an inheritance that can never be spoilt or soiled and never fade away, because it is being kept for you in the heavens. Through your faith, God's power will guard you until the salvation which has been prepared is revealed at the end of time. This is a cause of great joy for you, even though you may for a short time have to bear being plagued by all sorts of trials; so that, when Jesus Christ is revealed, your faith will have been tested and proved like gold - only it is more precious than gold, which is corruptible even though it bears testing by fire - and then you will have praise and glory and honour. You did not see him, yet you love him; and still without seeing him, you are already filled with a joy so glorious that it cannot be described, because you believe; and you are sure of the end to which your faith looks forward, that is, the salvation of your souls
In the evening of that same day, the first day of the week, the doors were closed in the room where the disciples were, for fear of the Jews. Jesus came and stood among them. He said to them, 'Peace be with you,' and showed them his hands and his side. The disciples were filled with joy when they saw the Lord, and he said to them again, 'Peace be with you. As the Father sent me, so am I sending you.' After saying this he breathed on them and said: "Receive the Holy Spirit. For those whose sins you forgive, they are forgiven; for those whose sins you retain, they are retained.'
Thomas, called the Twin, who was one of the Twelve, was not with them when Jesus came. When the disciples said, 'We have seen the Lord'; he answered, 'Unless I see the holes that the nails made in his hands and can put my finger into the holes they made, and unless I can put my hand into his side, I refuse to believe.'
Eight days later the disciples were in the house again and Thomas was with them. The doors were closed, but Jesus came in and stood among them. 'Peace be with you' he said. Then he spoke to Thomas, 'Put your finger here; look, here are my hands. Give me your hand; put it into my side. Doubt no longer but believe.' Thomas replied, 'My Lord and my God!' Jesus said to him: 'You believe because you can see me. Happy are those who have not seen and yet believe.'
There were many other signs that Jesus worked and the disciples saw, but they are not recorded in this book. These are recorded so that you may believe that Jesus is the Christ, the Son of God, and that believing this you may have life through his name.
---
Reflection for the Second Sunday of Easter

Sin - A Powerful Three-Letter Word

It would be fascinating to compare the very early followers of Jesus with the Christians of 4th century AD or later. During the intervening period significant changes had occurred within the community of believers founded by Jesus Christ. His followers had spread far and wide as they fled from persecutors of 'The Way', the name by which Christianity was first know. Then Gentile converts began to outnumber Jewish converts. The Gospel, that had been initially orally transmitted, was written down as the original Apostles and disciples died. New languages were embraced as knowledge of The Way spread and this involved translations. The words of one language do not always transfer easily into another. Even within a language, over a passage of time, words undergo a change of meaning. Older speakers of English will ascribe a meaning to the English word 'wicked' that is completely at variance with what a 21st century English youth will understand by the same word.
St. John's Gospel (20:19-31) for this 2nd Sunday of Easter (Low Sunday) may contain an illustration of the complexities that have always and continue to simmer throughout Scriptural translation. The particular passage is:
"Jesus said to them again, "Peace be with you. As the Father has sent me, so I send you."
And when he had said this, Jesus breathed on them and said to them, "Receive the Holy Spirit. Whose sins you forgive are forgiven them, and whose sins you retain are retained." (John 20:21-23)
Jesus was conferring on his Apostles their primary mandate to be ministers of his Divine forgiveness.
Perhaps you have heard of Sr. Sandra Schneiders, a Religious of The Immaculate Heart of Mary and a world-renowned Scripture scholar and lecturer. In her book, 'Jesus Risen in Our Midst', Sr. Schneiders points out that we are accustomed to translations that misinterpret this verse by adding a word not found in the original Greek text of the second part of Jesus' command.
Jesus commissioned his disciples to forgive sins, but when he talked about retaining or holding on, the word "sin" is not mentioned in the Greek text. Jesus commissions the Apostles to minister his forgiveness of sin as they have seen and heard him do in his three years of public ministry. Sr. Schneiders suggests that Jesus was encouraging his Apostles to stay in touch with the person still distanced from Christ by sin. They were to focus on "retaining", or holding on to, people rather than focusing on their sins. She suggests that to 'retain' the sin of another is to hold another's sin as a form of control, of leverage, over the sinner. She believes that, not only is there no evidence for such an attitude, but that there is positive evidence to the contrary in Jesus' teaching and action.
John's Gospel extract for this Sunday (20:19-31) goes on to recall not only the Apostle Thomas' refusal to believe but also his pre-conditions if he were to believe in Jesus' Resurrection. Far from refusing Thomas' pre-conditions, Jesus demonstrates the lengths he is willing to go to embrace the estranged Apostle. In other words, Jesus holds, retains, Thomas within the bond of brotherhood rather than excluding him from it. If Thomas' refusal to believe in Jesus' Resurrection were a sin, Jesus, far from 'retaining' his sin went the proverbial 'extra mile' to embrace Thomas thereby effecting his full restoration within the fold.
Sr. Schneiders offer no comment as to how the translation from the original Greek appears to introduce a word not found in that particular section of the Greek text. But, for the sake of argument, let us suppose that those, long ago, who were concerned with this particular translation believed that, as Jesus was actually giving his Apostles his power to forgive sin, he must surely also be giving them the power to retain sin. This would be putting a benign interpretation on a translational question mark.
There could be another interpretation. To confer on the Church Christ's power not only to forgive sin but also to refuse forgiveness gives the Church a power and a control akin to that of a secular ruler.
It may be useful here to recall that members of 'The Way' had been designated a pariah group until the conversion of the Roman Emperor Constantine the Great (306-337 AD). Constantine enacted administrative, financial, social, and military reforms to strengthen his empire. He also played a significant role in the organisation and structure of the fledgling Christian Church. With his support, the Edict of Milan in 313 AD decreed the acceptance of previously persecuted Christians throughout his Empire. It was Constantine, not the then Pope, for example, who called the Church Council of Nicaea in 325 AD that gave us the Nicene Creed still being proclaimed in our churches each Sunday.
In the Constantine era Church leaders began to adapt some of the organizational and command structures of Constantine's Empire in their governance of the Church. For example, the so called 'Donation of Constantine' bestowed on the See of Peter "power, and dignity of glory, and vigour, and honour imperial", and "supremacy as well over the four principal sees, Alexandria, Antioch, Jerusalem, and Constantinople, as also over all the churches of God in the whole earth". The Donation (later accepted as fraudulent) was widely accepted at the time and used to validate Papal temporal power in the Middle Ages. The synchronism that emerged between Empire and Church beginning with Constantine had enduring negative consequences, and perhaps some limited positive ones, that still reverberate in the Church of the 21st century!
Too close a confluence between the secular and the ecclesiastical is unhealthy with issues of overarching power and control as well as of politics. Believers such as translators, for example, may have been influenced to make 'adjustments', such as that identified by Sr. Schneiders. The power of even a single word should not be underestimated especially in relation to Scripture.
Power and fear were the tools Emperors used to govern their subjects. These same tools were adapted by church leaders - no doubt initially with the best of intentions - to govern the flock of God given into their care. The threefold mandate the Risen Jesus gave to the repentant and reconciled Peter was "Feed" my lambs, "Shepherd" my sheep, "Feed" my sheep. (John 21: 15-17) At no stage did Jesus endorse the use of power and/or of fear. Jesus did encourage people to 'fear the Lord' but in the sense that we must have respect for God which is distinct from a servile fear. Jesus is always near, his enduring love is not a threat but an invitation to allow us to be fed and shepherded by him.
---
Pope Francis to canonize Fatima visionaries during May visit

During his trip to Portugal for the centenary of the Fatima Marian apparitions next month, Pope Francis will canonize visionaries Francisco and Jacinta Marto, making them the youngest non-martyrs to ever be declared saints.

The children will be canonized during Pope Francis' May 13 Mass in Fatima. The decision for the date was made during a April 20 consistory of cardinals, which also voted on the dates of four other canonizations, in addition to that of Francisco and Jacinta, that will take place this year.

Cardinal Jose Saraiva Martins, the Prefect Emeritus of the Congregation for the Causes of Saints, is the man who was largely responsible for advancing the visionaries' cause, paving the way for them to become the first canonized children who were not martyred.

The brother and sister, who tended to their family's sheep with their cousin Lucia Santo in the fields of Fatima, Portugal, witnessed the apparitions of Mary now commonly known as Our Lady of Fatima.

During the first apparition, which took place May 13, 1917, Our Lady asked the three children to pray the Rosary and make sacrifices for the conversion of sinners. The children did this and were known to pray often, giving their lunch to beggars and going without food themselves. They offered up their sacrifices and even refrained from drinking water on hot days.

When Francisco and Jacinta became seriously ill with the Spanish flu in October 1918, Mary appeared to them and said she would to take them to heaven soon.

Bed-ridden, Francisco requested and received his first Communion. The following day, Francisco died, April 4, 1919. Jacinta suffered a long illness and was eventually transferred to a Lisbon hospital, where she underwent an operation for an abscess in her chest. However, her health did not improve and she died Feb. 20, 1920.