Contents: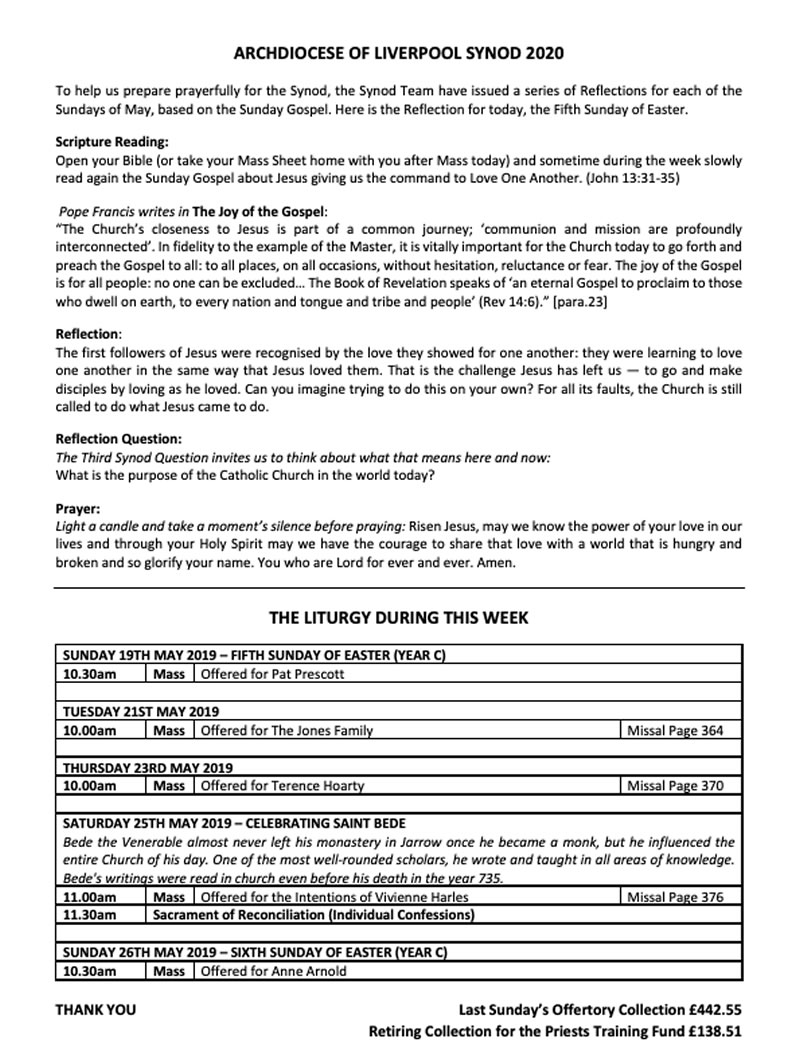 ---
---
This Sunday's Readings


First Reading

 

                 Acts 14:21-27
Paul and Barnabas went back through Lystra and Iconium to Antioch. They put fresh heart into the disciples, encouraging them to persevere in the faith. "We all have to experience many hardships" they said "before we enter the kingdom of God." In each of these churches they appointed elders, and with prayer and fasting they commended them to the Lord in whom they had come to believe.
They passed through Pisidia and reached Pamphylia. Then after proclaiming the word at Perga they went down to Attalia and from there sailed for Antioch, where they had originally been commended to the grace of God for the work they had now completed. On their arrival they assembled the church and gave an account of all that God had done with them, and how he had opened the door of faith to the pagans.



Second Reading

 

              Apocalypse 21:1-5
I, John, saw a new heaven and a new earth; the first heaven and the first earth had disappeared now, and there was no longer any sea. I saw the holy city, and the new Jerusalem, coming down from God out of heaven, as beautiful as a bride all dressed for her husband.
Then I heard a loud voice call, from the throne: "You see this city? Here God lives among men. He will make his home among them; they shall be his people, and he will be their God; his name is God-with-them. He will wipe away all tears from their eyes; there will be no more death, and no more mourning or sadness. The world of the past has gone." Then the One sitting on the throne spoke: "Now I am making the whole of creation new".



Gospel Reading

 

           

 

  John 13:31-35
When Judas had gone Jesus said:
"Now has the Son of Man been glorified,
and in him God has been glorified.
If God has been glorified in him,
God will in turn glorify him in himself,
and will glorify him very soon.
My little children, I shall not be with you much longer.
I give you a new commandment: Love one another.
Just as I have loved you, you also must love one another.
By this love you have for one another,
everyone will know that you are my disciples."
---
Sunday Reflection 5th Sunday Of Easter

In Transition

The words ' being in transition' can be applied to multiple situations. We hear it used in association with life-threatening illnesses, with recovery and rehabilitation programmes and, more recently, with what is entitled gender re-assignment. However, a more basic being 'in transition' is common to every human being, without exception.
Our common and basic being 'in transition' happens at our conception. From that moment, for however long we are humanly alive, be it long or short, we can be described as being in 'a state of transition'. The fertilization of the female's egg by a male sperm begins, for each of us, an earthly unending process of cell multiplication and development.
Anonymous editors, long ago, selected the Scriptural excerpts we hear at Mass. In making their choice of a Gospel for this 5th Sunday of Easter (John 13: 31-33,34-35) it is a pity that they did not include verse 30:
"30 As soon as Judas had taken the bread, he went out. Night had fallen."
John's inclusion of those three words: "Night had fallen" is telling. They set the tone for all that is to befall Jesus in the coming forty-eight hours. The transition from day to night in that hemisphere is not a protracted as it is, for example, during summer in the UK. In Palestine, the period we know as 'dusk' is brief.
Up to this point, in John's Gospel, Jesus had been the initiator of all his outreach in word and action. John's phrase: "Night had fallen" signifies Jesus' behavioural transition from active to passive. From this point, Jesus neither initiated nor proposed anything. He embraced, totally, the will of his heavenly Father understanding the suffering that this would entail
Jesus transitioned from theory into practice in his post Last Supper prayer-vigil in the Garden of Gethsemane. It was a decision to which he had long been committed but, as we well know, the enactment of promises made does not always follow without a struggle.
Cancer we know to be a generic name for a group of diseases involving abnormal cell growth with the potential to invade or spread to other parts of the body. Cancer's spiritual equivalent is sin. It invades the imagination, desire, heart and will. Unless checked by our firmness of decision and bold petitioning for God's grace, it will spread with amazing and spiritually-disabling rapidity.
Medical opinion believes that the early detection of the disease of cancer is the best way of successfully overcoming it. Spiritual opinion supports the belief that the early identification and treatment of sin is essential if we are not to be overcome by it. The spiritual remedy is frequent use of the Sacraments of Reconciliation and the Eucharist together with prayer and acts of self-denial that may allow for greater alms-giving.
John's Gospel recalls for us Jesus' new Commandment:
"Love one another.
As I have loved you,
so you also should love one another."
The commandment to love was not new. What was new was Jesus' definition of how to love, namely, "As I have loved you."
Jesus' new definition of the mutual love his disciples were to show one another called them, and now calls us, to a transition beyond anything previously known. Humankind had previously never experienced God's love as it was manifested by the Son of God-made-Man. When Jesus spoke those words at the Last Supper table he was just hours away from allowing them to be enacted. That the disciples lacked understanding of the significance of Jesus' words was shown by Peter, James and John falling asleep in the garden of Gethsemane, while Jesus sweated blood just yards away from them.
Hearing Jesus' words to his apostles today must surely challenge us to wonder whether we, too, are guilty of 'sleeping on the job'? Have we succumbed to a reality-numbing not entirely benign form of spiritual cancer (sin) that has halted, or at least, interrupted our spiritual transitioning into becoming holy? For it is the holiness of God to which we are called, both by our creation as well as by our Baptism.
Jesus' announcement, at the Last Supper, of his 'new' commandment was the vital enhancement of God's original commandment as recorded in the Old Testament's Book of Deuteronomy chapter 30:
" 6The Lord your God will circumcise your hearts and the hearts of your descendants, so that you may love him with all your heart and with all your soul, and live."
"9The Lord will again delight in you … 10if you obey the Lord your God and keep his commands and decrees that are written in this Book of the Law and turn to the Lord your God with all your heart and with all your soul."
"11 Nor is what I am commanding you today too difficult for you or beyond your reach.12 … 14 No, The Word is very near you; it is in your mouth and in your heart so you may obey it."
In today's Second Reading (Rev.21:1-5) John foresaw "a new heaven and a new earth". We are presently 'in transition' to this new heaven and new earth. It is vital for us, as the Baptised, to remember at all times that we are called to live, evidentially, our Christian commitment.
---

Cathedral archives: Queen of May

By Neil Sayer, Archdiocesan archivist

Our archives include many photographs of May processions up and down the Archdiocese. A lot of them were originally published in the pages of the Catholic Pictorial in the 1960s and 1970s. However, the records do not show why the tradition is not as widespread as it once was.
In English folk tradition, the May Queen seems to have origins in Tudor village celebrations of springtime. According to this rural tradition, local girls in white dresses formed a retinue of attendants for the May Queen, who was usually crowned by the previous year's queen. The Victorian fashion for reinventing national myths was then given a push by 'The May Queen', a long poem by Alfred Lord Tennyson published in 1855. Maypole dancing was created as an educational and physical pursuit. Processions became a vital part of community activity. Possibly the creation of workers' holidays in May helped, too, in the development of parish processions and festivities.
Catholic churches in the early 20th century seem to have grafted some of these elements of pageantry on to celebrations associated with the worship of the Virgin Mary. The month of May has been associated with devotions to Our Lady for several centuries, originally in Italy but spreading throughout the Catholic world. The garlanding or crowning of a statue appears to have been imported from the eastern church.
Photographs in the archives from at least the 1920s show processions with May Queens, and crownings of statues of Mary, in parishes not just in Liverpool but elsewhere in Lancashire. Processions could have included the appointment of a Queen of the May, the crowning of a statue of the Virgin Mary with flowers, or a solemn procession with the men of the parish carrying a statue around the church before bearing it inside. The Children of Mary or a resident order of nuns might also have taken a turn heading the procession with the statue for veneration. Very often the processions were combined with school celebrations of First Holy Communion.
A display of these photographs can be seen at the Archdiocesan archives during May. The one here dates from 1931 and shows Catherine Finnan, May Queen for St Augustine's parish, Liverpool.