Contents: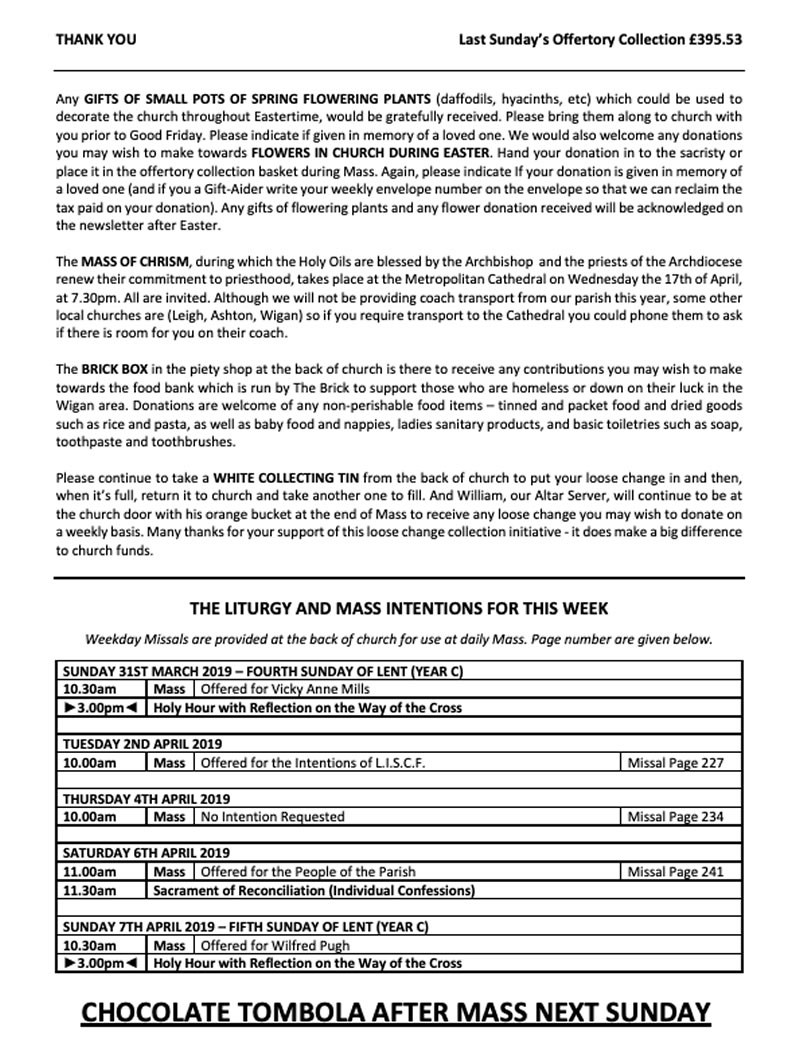 ---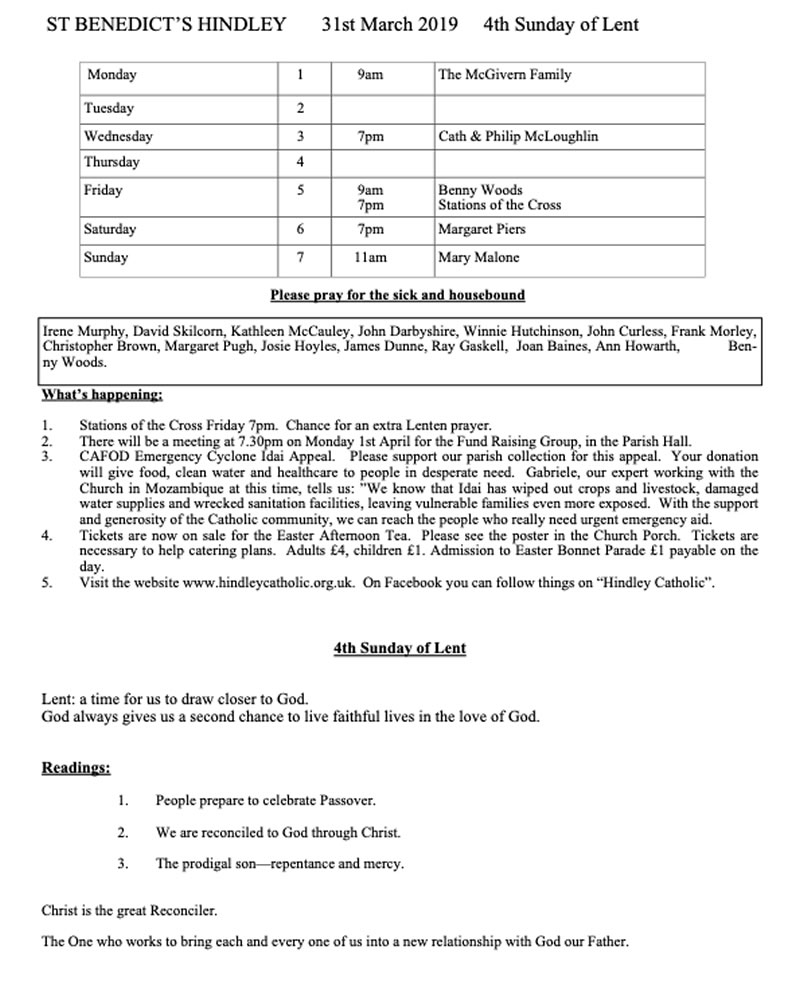 ---
This Sunday's Readings


First Reading

 

                 Joshua 5:9-12
The Lord said to Joshua, "Today I have taken the shame of Egypt away from you." The Israelites pitched their camp at Gilgal and kept the Passover there on the fourteenth day of the month, at evening in the plain of Jericho. On the morrow of the Passover they tasted the produce of that country, unleavened bread and roasted ears of corn, that same day. From that time, from their first eating of the produce of that country, the manna stopped falling. And having manna no longer, the Israelites fed from that year onwards on what the land of Canaan yielded.



Second Reading

 

             2 Corinthians 5:17-21
For anyone who is in Christ, there is a new creation; the old creation has gone, and now the new one is here. It is all God's work. It was God who reconciled us to himself through Christ and gave us the work of handing on his reconciliation. In other words, God in Christ was reconciling the world to himself, not holding men's faults against them, and he has entrusted to us the news that they are reconciled. So we are ambassadors for Christ; it is as though God were appearing through us, and the appeal that we make in Christ's name is: be reconciled to God. For our sake God made the sinless one into sin, so that in him we might become the goodness of God.



Gospel Reading

 

           

 

   Luke 15:1-3.11-32
The tax collectors and the sinners were all seeking the company of Jesus to hear what he had to say, and the Pharisees and the scribes complained, "This man" they said "welcomes sinners and eats with them." So he spoke this parable to them:
"A man had two sons. The younger said to his father, "Father, let me have the share of the estate that would come to me." So the father divided the property between them. A few days later the younger son got together everything he had and left for a distant country where he squandered his money on a life of debauchery.
When he had spent it all, that country experienced a severe famine, and now he began to feel the pinch, so he hired himself out to one of the local inhabitants who put him on his farm to feed the pigs. And he would willingly have filled his belly with the husks the pigs were eating but no one offered him anything. Then he came to his senses and said, "How many of my father's paid servants have more food than they want, and here am I dying of hunger! I will leave this place and go to my father and say: Father, I have sinned against heaven and against you; I no longer deserve to be called your son; treat me as one of your paid servants." So he left the place and went back to his father.
While he was still a long way off, his father saw him and was moved with pity. He ran to the boy, clasped him in his arms and kissed him tenderly. Then his son said, "Father, I have sinned against heaven and against you. I no longer deserve to be called your son." But the father said to his servants, "Quick! Bring out the best robe and put it on him; put a ring on his finger and sandals on his feet. Bring the calf we have been fattening, and kill it; we are going to have a feast, a celebration, because this son of mine was dead and has come back to life; he was lost and is found." And they began to celebrate.
Now the elder son was out in the fields, and on his way back, as he drew near the house, he could hear music and dancing. Calling one of the servants he asked what it was all about. "Your brother has come" replied the servant "and your father has killed the calf we had fattened because he has got him back safe and sound." He was angry then and refused to go in, and his father came out to plead with him; but he answered his father, "Look, all these years I have slaved for you and never once disobeyed your orders, yet you never offered me so much as a kid for me to celebrate with my friends. But for this son of yours, when he comes back after swallowing up your property - he and his women - you kill the calf we had been fattening."
The father said, "My son, you are with me always and all I have is yours. But it is only right we should celebrate and rejoice, because your brother here was dead and has come to life; he was lost and is found."
---
Sunday Reflection 4th Sunday of Lent

Parental Heartache

For the parents, the loss of a child is a pain like none other. St. Luke is the only Evangelist to record three of Jesus' parables on the subject of loss. This 4th Sunday of Lent we read the best recognised of the three, remembered under the title 'The Prodigal Son' (vv.15: 1-3, 11-32). In this context 'prodigal' carries the meaning of a recklessly wasteful use of inherited resources followed by a contrition.
In the main, Jesus' teaching parables are complete. He describes the scene, the ensuing action and delivers the conclusion. But the 'The Prodigal Son' parable is different. Despite the eventual return of the second son, the prodigal, Jesus leaves the parable open-ended. Not only does the elder son's antipathy towards his younger brother remain unresolved, it appears to worsen. Then, the elder son turns his venom upon his parents. It is a cliff-hanger of an ending.
This 'Prodigal Son' parable is much depicted in paintings and essays. Rembrandt's interpretation in oil on canvas probably stands head and shoulders above other artistic interpretations. A feature unique to Rembrandt is his portrayal of the father's hands resting on the bowed back of his returned prodigal. Rembrandt gave the father one male and one female hand thereby deliberately including the boys' mother. Rembrandt drew attention to the fact that, in Jesus' era and for long after, women were without independent status, personal identity and power.
Since commentaries often give a detailed examination of the Prodigal Son, it may be refreshing to broaden the focus. The parents represent God the Father who, in creating us [male and female] in his own image and likeness, has endowed each of us with an equality of dignity and purpose. Another word to describe this endowment is vocation. Created by the Almighty, we each carry within us God's personal invitation to understand that our vocation is not a choice we have to make, but our answer to His proposal that we will find in the words of his Son, Jesus Christ. The Prodigal, isolated in the foreign pigsty - the epitome of shame for a Jew - remembered his parents' (God's) lifelong forgiveness that he had repeatedly experienced in his early life. By contrast his elder brother did not consider himself in need of forgiveness - he had kept the Law!
Human parents pass on to their offspring genes that considerably influence the life decisions made by their offspring of either the first or subsequent generations. We can ask what was the prime endowment passed on by these parents to their two sons in Jesus' parable entitled, 'The Prodigal'? A tempting answer would be land but is that the correct answer?
Is the earth we inhabit God's prime endowment to us? A Divine endowment is forever, literally. Our earth, as we now know only too well, has no permanence. Neither, apparently, does anything in the cosmos. Surely, the prime endowment we have received from God is our likeness to Him and its hallmark is Divine forgiveness.
The parents (God), in the first place, showed their sons the quality of respect for the law of God. Having chosen to retire, the father had no alternative but to accede to his younger son's request for one third of the estate. It may have broken the parents' hearts to divide their much-loved land that the boy's father would have received as a cherished inheritance, but it was the Law.
Secondly, the parents showed their sons the quality of love. The parents had evidently lived this quality themselves and in doing so would have demonstrated it continuously to their sons and their household. In Jesus' parable there is no trace of parental recrimination towards the elder son when his younger brother leaves home. The parental love for the elder son is shown in the father's words: 'My son, you are here with me always; everything I have is yours.'"
It would appear that the elder son remained as unmoved by his parents' suffering at the loss of their younger son as he was unforgiving towards his brother.
The younger son's actions and words speak for themselves.
Thirdly, the parents showed their sons the quality of forgiveness. A continuous exemplification of forgiveness must have been both visible and audible in the parental behaviour. How else could the prodigal son have been so sure that he would be completely forgiven and reconciled. Had he not been certain he would never have said:
"Father, I have sinned against heaven and against you. I no longer deserve to be called your son; treat me as you would treat one of your hired workers."'
St. Luke's words paint a clear picture of the parental heartache: "While he (the prodigal son) was still a long way off, his father caught sight of him, and was filled with compassion. He ran to his son, embraced him and kissed him."
You can only hope to catch sight of someone or something for whom or for which you are committed to searching for specifically and continuously. The recognition is as much of the heart as of the head.
Note the earlier parable of the 'lost sheep' in chapter 15: 4-7.
Both the sons were the cause of the parental heartache. The Prodigal recognized that he was a recovering sinner. The elder son had yet to do so. Parental love continued to be extended to both.
God's prime disposition towards each and every person whom he creates, in his own image and likeness, is forgiveness. When God invites us individually to our specific vocation it is not because we are without fault or even perfectly suited to it. Each vocation is a gift enshrined in Divine forgiveness because we can only come to him as sinners. We are invited to understand that our vocation is nor a choice we have to make, but our answer to Christ's proposal that we recognise our need of his forgiveness and actively seek it. This journey, like that of the Prodigal, can be lengthy and arduous.
The Prodigal, at his homecoming, must have sensed his being forgiven, being 're-birthed', was way beyond anything he had expected. It is his belief in Divine forgiveness that allows Pope Francis to repeatedly call himself a sinner. "Pray for me, please, I am a sinner." The Pope recognizes himself as a recovering sinner. He urges us to share his vision because this is how we will remain until our last breath.
The elder sibling's attitude towards his younger sibling, whom he sees as a miscreant, is one of God's works in progress. Is there here a reflection of the divide between Jew and Gentile?
Jesus calls his Christian 'prodigal' adoptees to share in this on-going mission of repatriation through the teaching of the Second Council of the Vatican and subsequent Papal teachings. As Christians we are encouraged to pray for our elder brothers and sisters, the Jews, on to whom we have been grafted in and through the Person of God-made-Man, Jesus Christ, the Jew.
Faith and prayer embolden our hope in an era when, once again, there are worrying signs of the growth of widespread anti-Semitism. But, do we believe and pray with the same personal and deep faith that kept a mother and father, whose pain is incalculable, searching through rivers of tears that channelled the worn skin of their face as seen in the Rembrandt portrait?
---