Contents:
---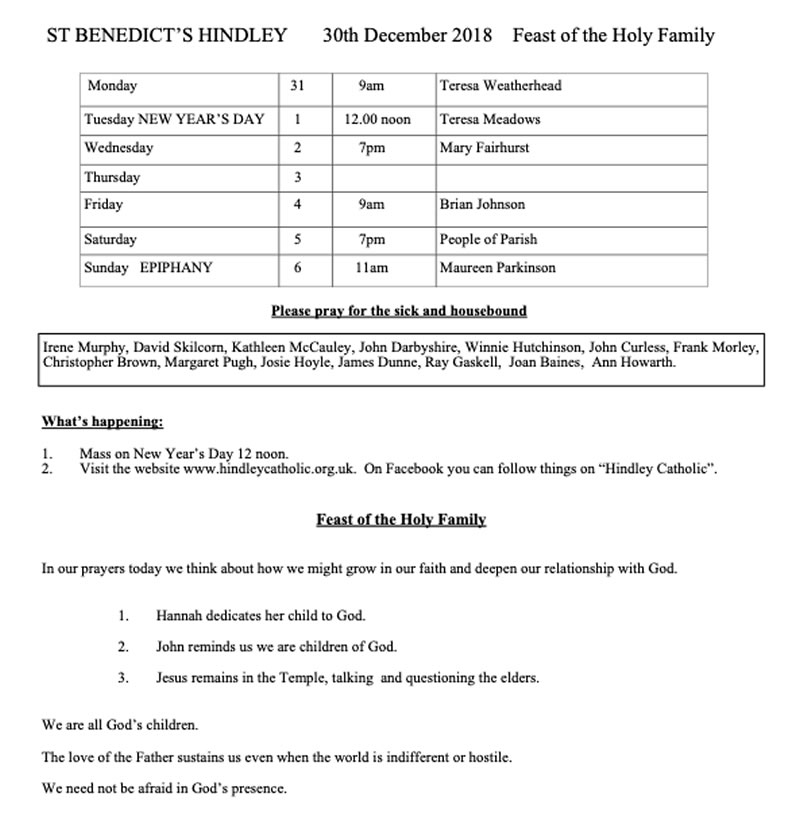 ---
This Sunday's Readings


First Reading

 

               I Samuel 1:20-22.24-28
Hannah conceived and gave birth to a son, and called him Samuel "since," she said, "I asked the Lord for him." When a year had gone by, the husband Elkanah went up again with all his family to offer the annual sacrifice to the Lord and to fulfill his vow. Hannah, however, did not go up, having said to her husband, "Not before the child is weaned. Then I will bring him and present him before the Lord and he shall stay there for ever." When she had weaned him, she took him up with her together with a three-year old bull, an ephah of flour, and a skin of wine, and she brought him to the temple of the Lord at Shiloh; and the child was with them. They slaughtered the bull and the child's mother came to Eli. She said, "If you please, my lord, as you live, my lord, I am the woman who stood here beside you, praying to the Lord. This is the child I prayed for, and the Lord granted me what I asked him. Now I make him over to the Lord for the whole of his life. He is made over to the Lord." There she left him, for the Lord.


Second Reading

 

            I John 3:1-2.21-24
Think of the love that the Father has lavished on us by letting us be called God's children; and that is what we are. Because the world refused to acknowledge him, therefore it does not acknowledge us. My dear people, we are already the children of God but what we are to be in the future has not yet been revealed, all we know is, that when it is revealed we shall be like him because we shall see him as he really is.
My dear people, if we cannot be condemned by our own conscience, we need not be afraid in God's presence, and whatever we ask him we shall receive because we keep his commandments and live the kind of life that he wants. His commandments are these: that we believe in the name of his Son Jesus Christ and that we love one another as he told us to. Whoever keeps his commandments lives in God and God lives in him. We know that he lives in us by the Spirit that he has given us.



Gospel Reading

 

           

 

 Luke 2:41-52
Every year the parents of Jesus used to go to Jerusalem for the feast of the Passover. When he was twelve years old, they went up for the feast as usual. When they were on their way home after the feast, the boy Jesus stayed behind in Jerusalem without his parents knowing it. They assumed he was with the caravan, and it was only after a day's journey that they went to look for him among their relations and acquaintances. When they failed to find him they went back to Jerusalem looking for him everywhere.
Three days later, they found him in the Temple, sitting among the doctors, listening to- them, and asking them questions; and all those who heard him were astounded at his intelligence and his replies. They were overcome when they saw him, and his mother said to him, "My child, why have you done this to us? See how worried your father and I have been, looking for you". "Why were you looking for me?" he replied. "Did you not know that I must be busy with my Father's affairs?" But they did not understand what he meant.
He then went down with them and came to Nazareth and lived under their authority. His mother stored up all these things in her heart. And Jesus increased in wisdom, in stature, and in favour with God and men.
---
Sunday Reflection The Holy Family

The Invisible Christmas Gift

Christmas' indispensable ingredients cannot be bought, borrowed or even stolen! They are love and respect. They can only be found in the soul and heart of each person and result from God's love and respect for us. Their presence within us should influence a person's outlook as well as underpinning one person's response to another.
Love and respect held together the material poverty of the Bethlehem original crib for the migrant family of Jesus, Mary and Joseph. Jesus' Mother and Foster-Father would have experienced the love and respect that underpinned their relationship in their utterly truthful interaction more than in any words they shared. Their mutual love and respect permeated not only them but their surroundings giving a unique validation to Jesus' later teaching "that where two or more are gathered in my name, there am I in the midst of them." (Matt.18:20)
A humble crib became a place of profound peace and joy. In the midst of poverty, hunger, political repression, as well as displacement, two hearts, securely bonded by love and respect, nursed a new-born displaying all the beguiling charm, as well as the demanding cries, of a tiny infant thrust into a challenging and strange world. The profound peace and joy flowing out of their mutual love despite their weariness, and no doubt their fears with so many cares and unknowns, identified them to shepherds and foreigners alike.
Shepherds and wealthy foreigners occupied earthly space at opposite ends of the human spectrum. They had nothing in common save their humanity. They would likely never encounter one another. Yet both were unlikely partners in identifying a visually unremarkable poor couple with a baby. We might be tempted to put a little too much emphasis on a star and choirs of heavenly angels, real though they appear to be, treating them as we would a 21st century satnav. They were not. We know of coves where the wind has, over time, so sculptured the rock, that it produces organ-like melodies. Likewise, shooting stars still captivate us. Shepherds and wealthy foreigners alike, along with Simeon and Anna, and, previously, Elizabeth the mother of John the Baptist, and God alone knows how many more, responded to the wonderfully real but quite intangible yet powerful love and respect that bonded this family distinguishing it from so many. As people tend to say, when words are inadequate, "you just know".
What do folk carry away from reunions of family and friends at this time of the year? There will be the gifts as well as ingested food and drink. The gifts will probably fade with time until they find long term seclusion in 'the loft'! Maybe some will become profitable discoveries for future generations! Gyms and keep-fit programmes may be undertaken to delete, not without difficulty, the 'delicious', which should not have been indulged in!
But, what invisible yet lasting gift will your relatives, friends and neighbours, carry from your home after a Christmas or New Year visit? Or, perhaps the question should be, what invisible yet beneficially lasting gift would you wish for them as a result of spending time in your company?
Would the weary or inadequate feel supported rather than judged; the spiritually impoverished, perhaps wounded, be offered accompaniment to find healing in the Lord? Though Christ is at the heart of Christmas celebrations, He can be all too invisible in those celebrating. Would those whose personal hopes had suffered repeated setbacks be encouraged to re-construct their personal aspirations, using the values evident in the lives of your family?
As was said at the start, Christmas' indispensable ingredients cannot be bought, borrowed or even stolen! They are love and respect. If you are blessed with them, be grateful. More than that, allow the Holy Spirit to reveal through you what, for the Christian, Christmas is all about. That, both those who visit you and those whom you visit will be inspired without, perhaps, a word being spoken. The Gospels of the Christmas feast record only the silence of Joseph and Mary - maybe the infant cried - but shepherds and wealthy travellers were enriched in ways they had never dreamed of and, in turn, quite likely enriched others.
The following reading from Ecclesiasticus is from today's Feast. It may prove difficult for those who have experienced abuse, in one form or another, from a parent or parents. Sadly, there are too many who have suffered and continue to suffer. With this in mind, we can recall Jesus' words that underpin all Scripture:
"A new command I give you: Love one another. As I have loved you, so you must love one another. By this everyone will know that you are my disciples, if you love one another." (John 13:34-35)
"God sets a father in honour over his children; a mother's authority he confirms over her sons. Whoever honours their father atones for sins, and preserves themselves from them. When they pray, they are heard; they store up riches who revere their mother. Whoever honours their father is gladdened by children, and, when they pray, are heard. Whoever reveres their father will live a long life; those who obey their father bring comfort to their mother."
(Ecclesiasticus 3:2-6 - First Reading for this Feast)
---