Contents:
---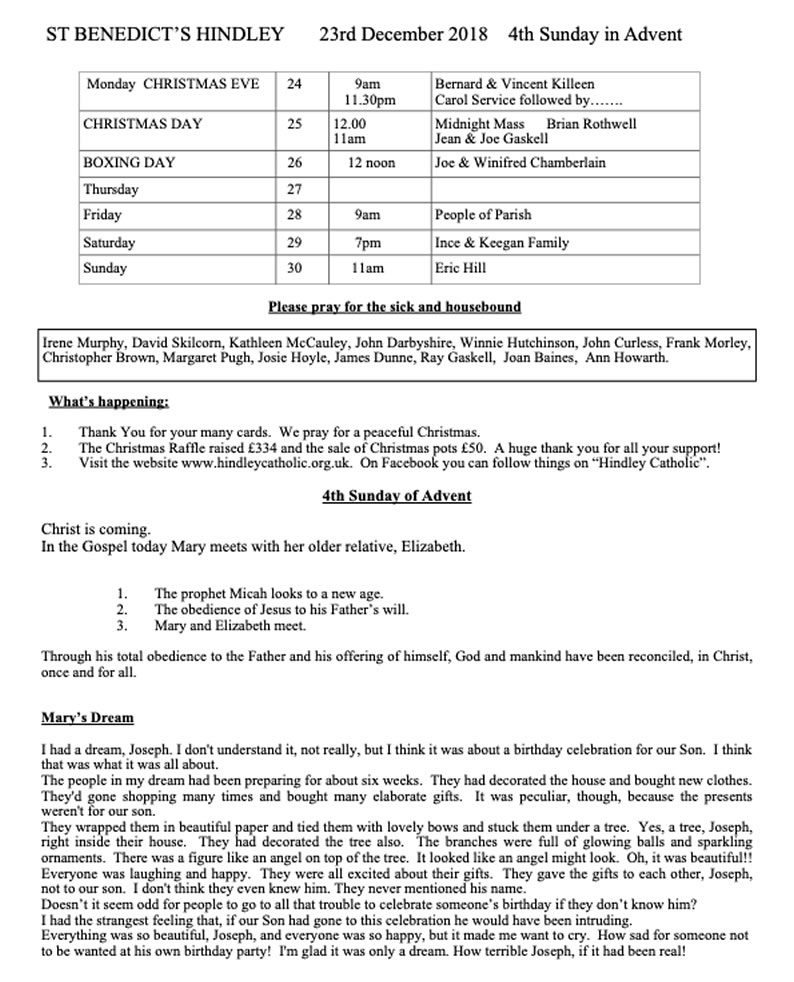 ---
This Sunday's Readings


First Reading

 

                 Micah 5:1-4
The Lord says this: You, Bethlehem Ephrathah, the least of the clans of Judah, out of you will be born for me the one who is to rule over Israel; his origin goes back to the distant past, to the days of old. The Lord is therefore going to abandon them till the time when she who is to give birth gives birth. Then the remnant of his brothers will come back to the sons of Israel. He will stand and feed his flock with the power of the Lord, with the majesty of the name of his God. They will live secure, for from then on he will extend his power to the ends of the land. He himself will be peace.


Second Reading

 

              Hebrews 10:5-10
This is what Christ said, on coming into the world: You who wanted no sacrifice or oblation, prepared a body for me. You took no pleasure in holocausts or sacrifices for sin; then I said, just as I was commanded in the scroll of the book, "God, here I am! I am coming to obey your will." Notice that he says first: you did not want what the Law lays down as the things to be offered, that is: the sacrifices, the oblations, the holocausts and the sacrifices for sin, and you took no pleasure in them; and then he says: Here I am! I am coming, to obey your will. He is abolishing the first sort to replace it with the second. And this will was for us to be made holy by the offering of his body made once and for all by Jesus Christ.

Gospel Reading

 

           

 

                                        Luke 1:39-44
Mary set out and went as quickly as she could to a town in the hill country of Judah. She went into Zechariah's house and greeted Elizabeth. Now as soon as Elizabeth, heard Mary's greeting, the child leapt in her womb and Elizabeth was filled with the Holy Spirit. She gave a loud cry and said, "Of all women you are the most blessed, and blessed is the fruit of your womb. Why should I be honoured with a visit from the mother of my Lord? For the moment your greeting reached my ears, the child in my womb leapt for joy. Yes, blessed is she who believed that the promise made her by the Lord would be fulfilled."
---
Sunday Reflection 4th Sunday of Advent

Expectation

Fair warning! If you struggle to understand the following paragraph, do please persevere! It may need reading more than once or twice! But it is crucial for the remainder of the article which hopefully will break open its meaning.
For most people, knowledge limits anticipation. Whereas expectation, founded on a firm belief, can reach beyond current knowledge. The crucial ingredient for expectation is individual belief. An expression of collective belief, that lacks individual affirmation, is not necessarily true belief.
This 4th Sunday of Advent's readings (Micah 5:1-4; Hebrews 10:5-10; Luke 1:39-45) teach us about why we have faith in the Incarnation of God-made-Man. Each individual believer, to qualify as a believer, has to affirm, at various points in her or his life, a personal belief that God gave flesh to the manifestation of His love among us in the birth of Jesus of Nazareth.
Elizabeth, mother of John the Baptist, had clearly made such an affirmation in making her own the Jewish religious beliefs in which she had been schooled. The validation for this statement is shown in the personal faith Elizabeth demonstrated in her dialogue with Mary, who, pregnant with Jesus, had come to visit. Elizabeth believed that God was indeed working mightily in and through lowly women from insignificant villages in a conquered, powerless nation. For both Mary and Elizabeth, their expectancies were founded on faith. Before her husband, Zechariah, broke his months of silence and sang his 'Benedictus', his wife prophesied that God was indeed in the midst of the people.
Both Mary and Elizabeth are our ancestors in faith. They are two outstanding women whose depth of faith freed them to expect what reason told them would never happen. Elizabeth, by virtue of her age, was well beyond child-bearing. No doubt she had longed for children throughout her fertile years, as did every Jewish married woman in the hope that she might be the mother of the promised Messiah. This is why Mary's choice of celibacy was so exceptional and why, in the person of Joseph, she was so blessed to have found a kindred spirit. For a Jewish daughter would not be allowed to remain single. These two were women in an age when their gender was totally without rights but overloaded with obligations in a male dominated culture.
There could be no rational anticipation that God's promises would be fulfilled through them. But faith is not fenced-in, as it were, by rationality. Elizabeth and Mary's response in faith utterly overwhelmed their seeming incapability by allowing themselves to be the handmaidens of God. Because they knew they could not accomplish what God had revealed to them by themselves, they did not limit God to their own abilities or anticipations.
How many of us, when God reveals to us the intricacies of our lives at the judgement, may be striking our breasts, metaphorically, as we say: "How did I not see/hear/appreciate what was there before me?"
On the other hand, there will be those for whom their lives will be an on-going mystery until their last breath. It was with his own dying breath on the Cross that Jesus whispered to God, to whom he had previously called out: "My God, my God, why have you forsaken me?" (Matt: 27:46), "It is accomplished." (John 19:30)
Elizabeth fulfilled the role of a prophet when she proclaimed Mary's blessedness:
"Blessed are you among women, and blessed is the fruit of your womb. And how does this happen to me, that the mother of my Lord should come to me?"
Elizabeth calls each of us to follow her example. She reminds us that the way to true beatitude, true happiness, is to follow Mary in living daily with faith that what God promises will be fulfilled. Both Mary and Elizabeth are present in the Word we receive today to remind us, yet again, that our faith is only limited by what we are willing to believe.
Luke chose his vocabulary with care:
"For at the moment the sound of your greeting reached my ears, the infant in my womb leaped for joy."
Since Luke was not present at that meeting, he relied on what he was told possibly by Mary. The word Luke chose was not the normal expression used to describe the movement of any child in the womb. Luke's choice of word could be translated as implying that the child "danced" in the womb. Here, this family incident makes its first theological point: John the Baptist, even before he was born, was prophetic in drawing attention to the Good News of Christ's coming.
Given the interwoven nature of Jewish families, it is reasonable to assume that Mary and Elizabeth had a long-standing closeness:
"Blessed are you among women and blessed is the fruit of your womb!"
That exclamation was Elizabeth's reading of the signs of the times proclaiming that God's Spirit was active in each participant in this drama of revelation. Elizabeth, whose priest-husband had been struck dumb, spoke as a prophet and pronounced the first beatitude in the Gospels. With that declaration, Elizabeth proclaimed that what was most holy had become present in her very own home.
God visited his people through Mary's total and loving obedience, the utter self-giving of a woman who opened herself to mystery through faith-based expectation. Indeed, she would be called blessed, and blessed, too, the fruit of her loving obedience.
Elizabeth's third beatitude, addressed to Mary, is also addressed to Israel, to The Church and to all Christians:
"Blessed are you who believed that what was spoken to you by the Lord would be fulfilled."
Elizabeth recognized that Mary had had to overcome an initial temptation when in (Luke 1:34) she responded to Gabriel:
"But how can this come about, since I have no knowledge of man?"
Gabriel's assurance that nothing is impossible for God: "The Holy Spirit will come upon you and the power of the Most High will cover you with its shadow." (Luke 1:35) allowed Mary's faith to blossom in a way in which she had never anticipated, though all Jewish women had (have) a longing to be the mother of the promised Messiah.
Elizabeth's prophecy to Mary:
"Blessed are you who believed that what was spoken to you by the Lord would be fulfilled"
was also spoken to the Son of God-made-Man in her womb and to us who, through Baptism, have been gifted with adoption by his heavenly Father.
For those who may find themselves responding to this script - 'God has not promised me anything in the way that he made promises to Elizabeth and Mary." Maybe the answer lies along the lines of: have you not used your eyes to read these words and availed yourself of the grace of your Baptism to, as it were, subsume their meaning? Take, then, your next breath and say 'thank God' and ponder the earlier line:
"How did I not see/hear/appreciate what was there before me?
Then, perhaps, ponder how you will share your blessedness in believing in the Incarnation of God-made-Man, the truth of Christmas, to all with whom you share it in 2018?
---