Contents: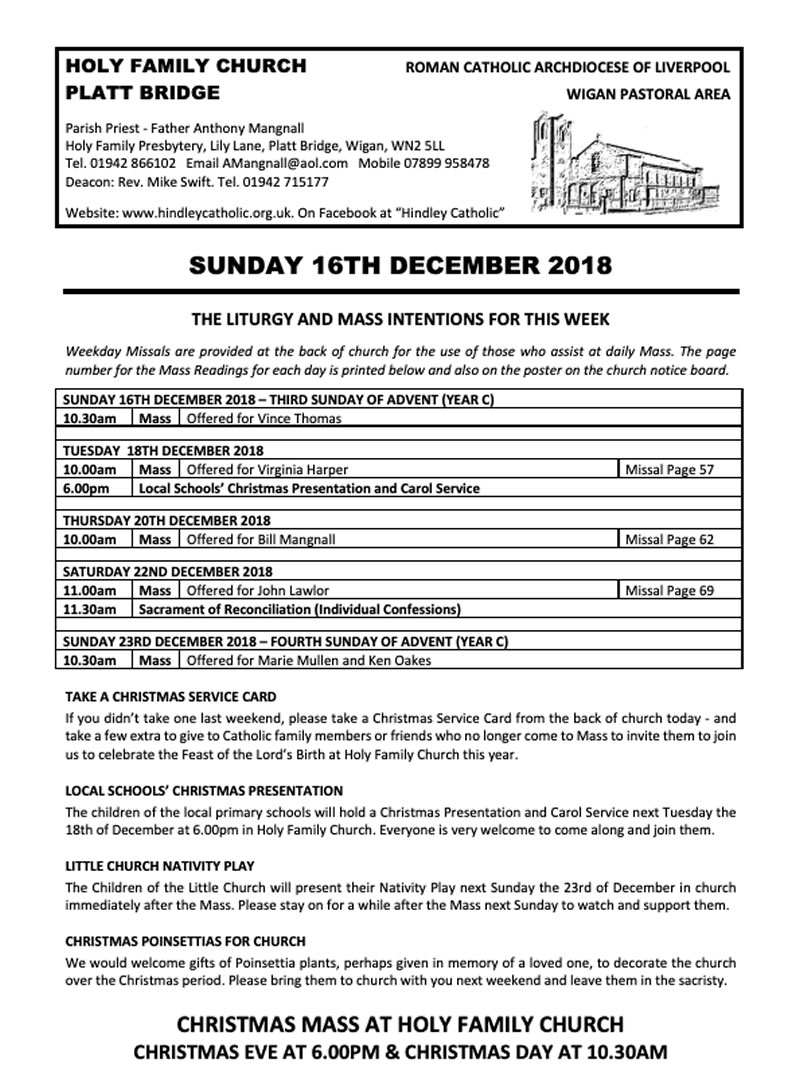 ---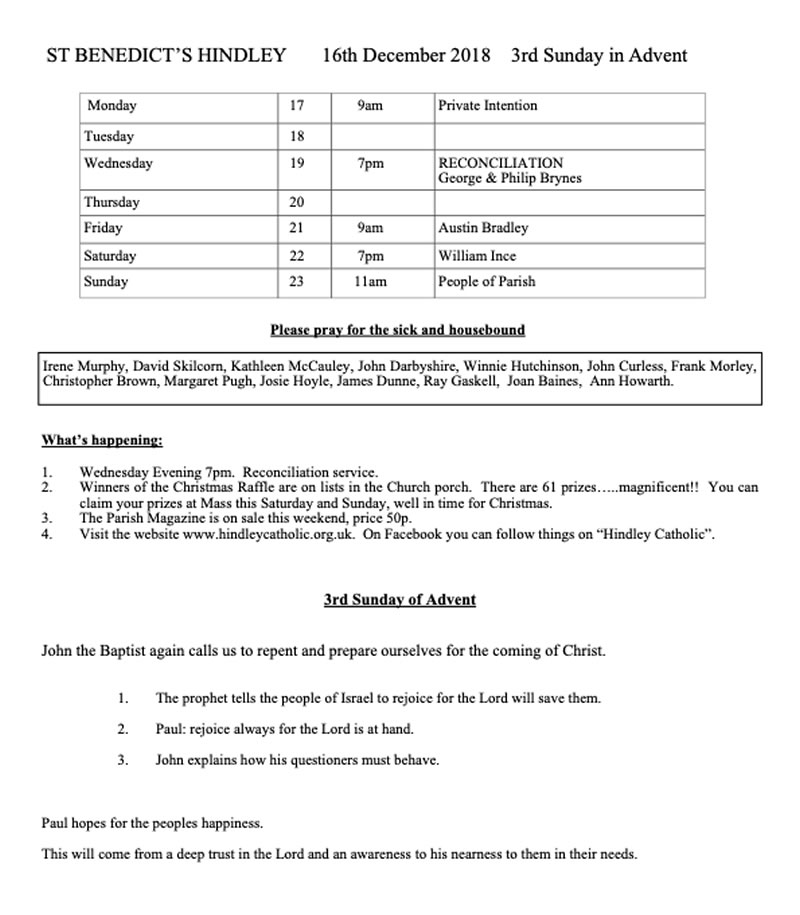 ---
This Sunday's Readings


First Reading

 

              Zephaniah 3:14-18
Shout for joy, daughter of Zion, Israel, shout aloud!
Rejoice, exult with all your heart, daughter of Jerusalem!
The Lord has repealed your sentence; he has driven your enemies away.
The Lord, the king of Israel, is in your midst; you have no more evil to fear.
When that day comes, word will come to Jerusalem:
Zion, have no fear, do not let your hands fall limp.
The Lord your God is in your midst, a victorious warrior.
He will exult with joy over you, he will renew you by his love;
he will dance with shouts of joy for you as on a day of festival.


Second Reading

 

           Philippians 4:4-7
I want you to be happy, always happy in the Lord; I repeat, what I want is your happiness. Let your tolerance be evident to everyone: the Lord is very near. There is no need to worry; but if there is anything you need, pray for it, asking God for it with prayer and thanksgiving, and that peace of God, which is so much greater than we can understand, will guard your hearts and your thoughts, in Christ Jesus.


Gospel Reading

 

           

 

   Luke 3:10-18
When all the people asked John, 'What must we do?' he answered, 'If anyone has two tunics he must share with the man who has none, and the one with something to eat must do the same.' There were tax collectors too who came for baptism, and these said to him, 'Master what must we do?' He said to them, "Exact no more than your rate.' Some soldiers asked him in their turn, 'What about us? What must we do?' He said to them, 'No intimidation! No extortion! Be content with your pay!'
A feeling of expectancy had grown among the people, who were beginning to think that John might be the Christ, so John declared before them all, 'I baptise you with water, but someone is coming, someone who is more powerful than 1 am, and 1 am not fit to undo the strap of his sandals; he will baptise you with the Holy Spirit and fire. His winnowing-fan is in his hand to clear his threshing-floor and to gather the wheat into his barn; but the chaff he will burn in a fire that will never go out.'
As well as this, there were many other things he said to exhort the people and to announce the Good News to them.
---
Sunday Reflection 3rd Sunday of Advent

"WHAT OUGHT WE TO DO?"

Five interrogative words with a mountain of meaning. They represent the collective outpouring of those Jews who, having trekked into the desert, listened with close attention to John the Baptist's proclamations.
Real deserts are not to be found on anyone's doorstep. Real deserts are substantial, unfriendly, silent tracks of emptiness inhabited by a few specialists. It's the profound silence of a real desert that is captivating. Sometimes, only the almost imperceptible movement of grains of sand, being caressed by a gentle breeze, is all that is audible. Being a place of deep silence, a real desert is distraction-free allowing human hearing to be heightened. Serious commitment, preparation - including sufficient time for the noise within ourselves to abate - and a determined sense of purpose are indispensable for people intent on entering a real desert. It would never have been an afternoon's outing! Perhaps we should be asking what compelled so many Jews, at the time, to trek to the desert to listen to John the Baptist (Matt.3:5)?
The short answer was to quench their thirst, which may seem strange as we associate deserts as being the cause of bodily thirst. But the thirst that brought the Jews in such droves (Matt: 3:5) to the desert, alarming their religious leaders in the process, was not a bodily thirst quenchable by an intake of liquid. Their thirst was spiritual, a thirst of the soul. The human soul cannot thrive without a continuous infusion of Divine grace and the Holy Spirit is our only source for this essential sustenance. Only a well-founded Christian faith can take us to believe in what we know as home namely, this earth, is our place of exile not our homeland. Space explorers know full well that they have to take the earth's atmosphere with them when exploring other planets. So, too, when the behaviour of our forebears placed them, and thereby us, in exile God ensured the continuance of life-supporting grace through the Covenants and the leaders that he sent to his Chosen People. Finally, God sent his Only-Begotten Son, Jesus of Nazareth. God intended his Chosen People, in turn, to be the 'bringers home' of all His scattered creation. Yet again, Satan plagiarized God's work - as he continues to do today - with schemes to satiate human thirst for Divine grace with effervescing, captivating falsehoods that divert attention from people's real thirst for God by substituting all manner of clever deceptions.
Those who live near sand-dunes, or a sandy beach, know how it is virtually impossible to stop the wind driving tiny particles of sand into their home. Particles get through the smallest of crevices and amass! Annoying as they are, they are a demonstration of Evil's persistence in infiltrating our lives whenever we lower our guard, relax our will to give all to God. There is a desert, not of sand but of deception, that is not only on our doorstep but has infiltrated our homes, our minds and our hearts. We even carry it around on our devices and plug it into our ears. What is this deception? It is noise. It passes as music for some, 'soap' serials, sports, gossip, politics, commerce and so much more for others. For each person, God's enemy - and ours - concocts a forever varying and distracting soul-numbing addiction. How effective is it? Well, for example, take a look around Europe's devastated Christian communities in this 21st century.
This Sunday's Gospel - Luke 3: 10-18 - brings us hope. John the Baptist proclaimed God's Word in the Judean desert (Matt: 3:1) presumably to the few and far between camel trains and Bedouin. He did not visit Jerusalem or any other towns and villages, at this stage, that we know of. Yet, the city-dwelling Jews heard about his message. How, we do not know. God's soul-quenching Word has an inexplicable reach, like the proverbial single seed that falls to the ground and produces a crop (John 12:24). It's not the quantity of the Word but the accuracy with which even a single word is relayed, coupled with the sincere belief to be heard in the voice of the proclaimer.
This combination of Word and belief carries and touches the souls of the spiritually thirsty that are drawn to seek it more and more. So, for example, try and ensure that the Christmas greetings you write contain not just your word, but God's too, quietly endorsed by your love. You could go a stage further. As you prepare cards for posting or Emails for sending, pause and pray for the recipient(s). Your intercession can carry across deserts and airwaves as well as the noise barrages that Satan copiously manufactures.
It is the verb in any sentence that carries the 'punch', as it were. The crowds that came asked John the Baptist: "What ought we to do?" The choice of verb carried an affirmation that they enquired not on a whim or a moment. Their question came from deep within as they recognised their obligation to God. Advent calls forth that same recognition, here and now, from us. Search your conscience and you will know. Then ask Jesus, with faith and with courage, the same question those Jews asked John the Baptist.
---