Contents: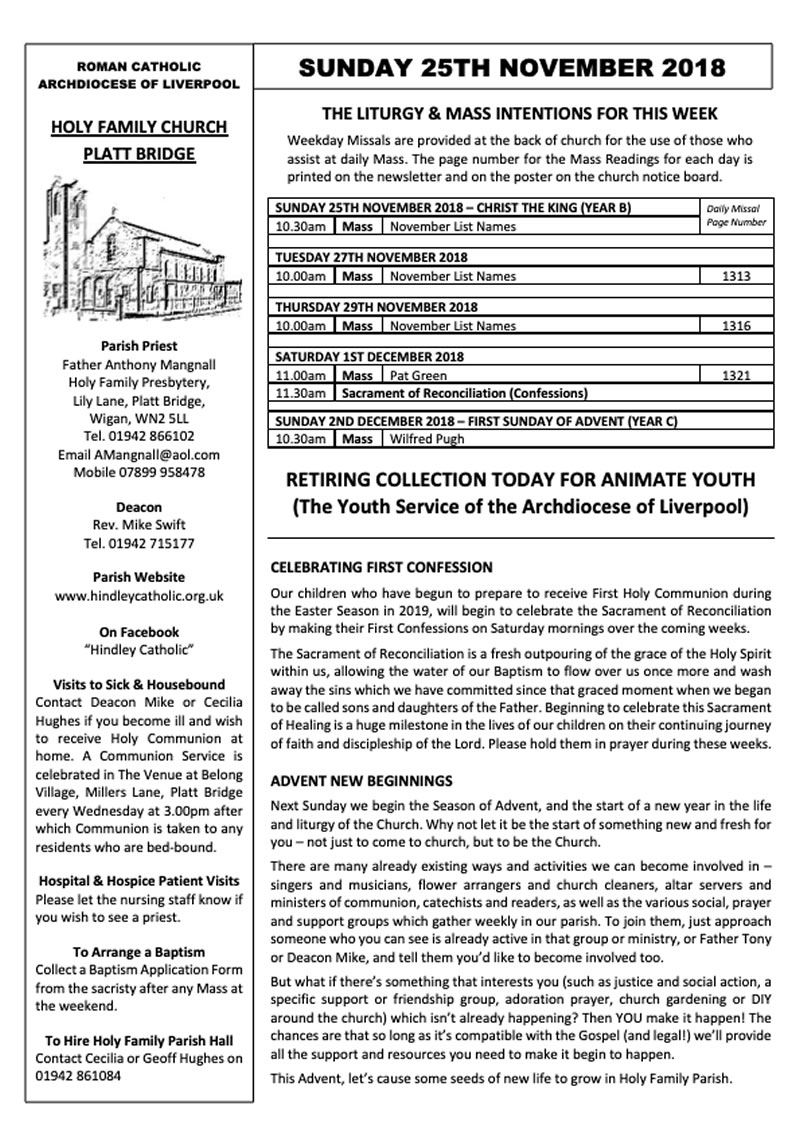 ---
St Benedict's Newsletter is not available
---
This Sunday's Readings


First Reading

 

 Daniel 7:13-14
I gazed into the visions of the night.
And I saw, coming on the clouds of heaven,
He came to the one of great age
and was led into his presence.
On him was conferred sovereignty,
and men of all peoples, nations and languages became his servants.
His sovereignty is an eternal sovereignty
which shall never pass away,
nor will his empire ever be destroyed.


Second Reading

 

 Apocalypse 1:5-8
Jesus Christ is the faithful witness, the First-born from the dead, the Ruler of the kings of the earth. He loves us and has washed away our sins with his blood, and made us a line of kings, priests to serve his God and Father; to him, then, be glory and power for ever and ever. Amen. It is he who is coming on the clouds; everyone will see him, even those who pierced him, and all the races of the earth will mourn over him. This is the truth. Amen. 'I am the Alpha and the Omega' says the Lord God, who is, who was, and who is to come, the Almighty.


Gospel Reading

 

 

 

 John 18:33-37
'Are you the king of the Jews?' Pilate asked. Jesus replied, 'Do you ask this of your own accord, or have others spoken to you about me?' Pilate answered, 'Am I a Jew? It is your own people and the chief priests who have handed you over to me: what have you done?'
Jesus replied, 'Mine is not a kingdom of this world; if my kingdom were of this world, my men would have fought to prevent my being surrendered to the Jews. But my kingdom is not of this kind.' 'So you are a king then?' said Pilate. 'It is you who say it' answered Jesus. 'Yes, I am a king. I was born for this, I came into the world for this: to bear witness to the truth; and all who are on the side of truth listen to my voice.'
---
Sunday Reflection Christ the King

Christ The Truth

The public perception of royalty in the 21st century has substantially altered. This last Sunday of the Church year has traditionally been called 'Christ the King'. Is the word 'King' in the title helpful in terms of 21st century evangelisation? Perhaps it could be exchanged with the word Truth, as in 'Christ the Truth'?
Jesus did not describe himself as a king while being interrogated by Pilate, the Roman Governor. More than a few are under the impression that he did.
Jesus said: "… my kingdom is not of this realm." "Then You are a king!" Pilate said. "You say that I am a king," answered Jesus. "For this reason I have come into the world, to testify to the truth." (John 18:37)
Pilate's response: "Truth? What is that?" (John 18:37) was a classic statement of self-indictment, had he realised it.
Pilate was so mentally enmeshed in political power and intrigue that he missed the importance of Jesus' nuanced responses to his question. We will never know what might otherwise have transpired had Pilate recognised the personification of truth in the person of the bedraggled Jesus standing before him. Or, for that matter, had Pilate paid attention to the message his wife had sent him: "While Pilate was sitting on the judge's seat, his wife sent him this message: "Have nothing to do with that innocent man, for I have suffered a great deal today in a dream because of him." (Matt 27:19)
Jesus had offered Pilate a 'moment of truth', which is another way of describing the 'grace of profound awareness' that only God who is The Truth can give. Jesus had earlier described himself to Thomas (John 14:6) "I am the way, the truth and the life .."
Truth emanates from God not from a laboratory or archaeology. Yet if you look up the word truth on Wikipedia, a source of information for millions today, there is no direct reference to God as the author of truth.
The Truth lives because God lives and God is truth. There are true facts (2 plus 2 = 4) but that is an unchanging existential truth. The Truth, God, is greater than we, who are God's creation, can comprehend.
Scripture teaches that we can have a true and personal relationship with God, but this does not mean we will ever understand God exhaustively. The Bible is clear that God is ultimately incomprehensible to us; that is, we can never fully comprehend his whole being. The following Scriptural excerpts make this point:
"Great is the Lord, and greatly to be praised, and his greatness is unsearchable". (Ps. 145:3)
"Behold, these are but the outskirts of his ways, and how small a whisper do we hear of him! But the thunder of his power who can understand?" (Job 26:14)
"For my thoughts are not your thoughts, neither are your ways my ways, declares the Lord. For as the heavens are higher than the earth, so are my ways higher than your ways and my thoughts than your thoughts." (Isa. 55:8-9)
"Oh, the depth of the riches and wisdom and knowledge of God! How unsearchable are his judgments and how inscrutable his ways! "For who has known the mind of the Lord, or who has been his counsellor?" (Rom. 11:33-34; cf. Job 42:1-6; Ps. 139:6, 17-18; 147:5; Isa. 57:15; 1 Cor. 2:10-11; 1 Tim. 6:13-16)
Through these verses we learn that not only is God incomprehensible but that each of his attributes, his greatness, power, thoughts, ways, wisdom, and judgments as we might describe them, are beyond human ability to fully fathom though, in his creation, we catch glimpses of his wonder. The clearest example being ourselves. Not only can we never know everything there is to know about God, we can never know everything there is to know about even one aspect of God's creative work.
It is in the light of such reflection that the title 'king' may be inadequate. But then, so too, may be our own understanding of the truth. As children, many were taught the static facts of the Catechism and, later, the semi-static laws of the Church. But the truth is not a static fact to be 'committed to memory'. The Truth is God alive with the continuous living interaction of the Three Persons of the Holy Trinity, Father, Son and Spirit. This living Trinity of Love, that is Truth, longs to fill each human heart and soul, not to exercise regal power but to show us love and compassion. This is the Mystery of faith to which we are called and which lies at the core of our belief.
To the saying: 'knowledge is no burden' someone added: 'That may be true until you start to implement that knowledge when it often becomes burdensome'. But it is true to say that truth is never a burden. What truly lifts us closer to God cannot be burdensome, it is all that holds us back from closeness with God that is burdensome. Baptism fills us with the weightless joy of God's grace but very quickly, thereafter, this world's gravitational pull attaches itself to us like detritus which wears away that grace. Children's bedrooms are packed so often with materialism that God is edged out and it's all done in the name of love.
Parents, from a child's perspective, have all the answers. It is so vitally important for parents to disabuse their offspring of this misconception by introducing them, gently and over time, to the One who does know everything and who loves them and mummy and daddy. The problem for parents is that the window of opportunity for them to guide their children towards God is becoming smaller and smaller as the material world seeks to fill their emerging minds with other thoughts and desires.
Jesus tells Pilate, in today's extract from John (18:33-37): "For this I was born and for this I came into the world, to testify to the truth. Everyone who belongs to the truth listens to my voice."
The Truth is compelling. When it is set before us it can captive us as nothing else can. But the truth needs dedicated nurturing in our heart and soul for, as Jesus, teaches in the Parable of the Darnel (Matt.13:24-30), Satan loses no opportunity to sow his corruptive darnel. It looks like the truth, it may even sound like the truth, but it will try to suffocate the truth
Perhaps today, the Feast of Christ our Truth, would be a moment for each of us to reflect upon what The Truth who is Christ means to us. If our responses tend towards the monosyllabic rather worn phraseology of earlier times in our life, fear not. God, who is truth, is alive and longing to freshen and deepen our appreciation of his love for us. His love, like his truth, is timeless and limitless. All that needed is for us to empty out the dead-weightiness that our enemy and God's has slipped into the nooks and crannies of our life. The problem may be identifying it! It has all become very familiar and we are rather loathed to change. 'Come, Holy Spirit, fill the heart of this weak disciple trying to be faithful' - is a good place to start. It's a cry for help that will not go unanswered.
Pilate had the Truth standing before him and utterly failed to recognise Him or, perhaps, feared doing so because of the implied cost. Why else would be wash his hands in public?
Mary had the messenger of the Truth standing before her. She found the love to say: "Let it be done to me according to your Word".
Anyone of us, at any time, can ask our mother, Mary, to stand with us as we face the Truth.
---