Contents:
---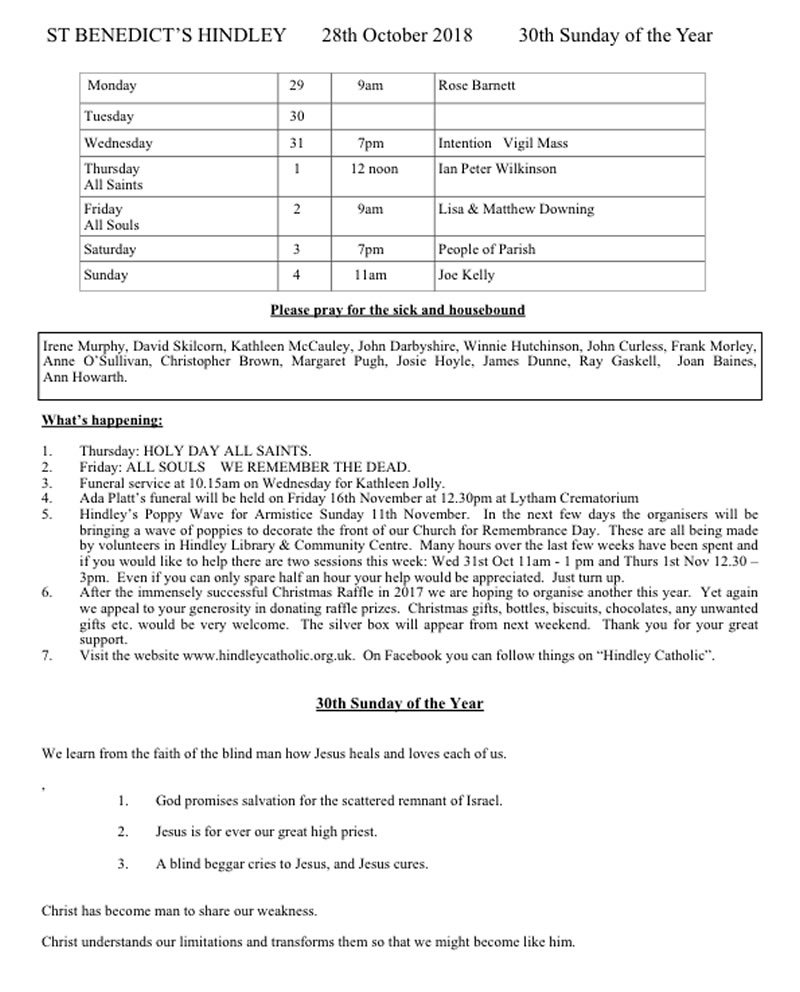 ---
This Sunday's Readings


First Reading

 

 Jeremiah 31:7-9
The Lord says this: Shout with joy for Jacob! Hail the chief of nations!
Proclaim! Praise! Shout: 'The Lord has saved his people, the remnant of Israel!'
See, I will bring them back from the land of the North
and gather them from the far ends of earth; all of them:
the blind and the lame, women with child, women in labour:
a great company returning here.
They had left in tears, I will comfort them as I lead them back;
I will guide them to streams of water, by a smooth path where they will not stumble.
For I am a father to Israel, and Ephraim is my first-born son.


Second Reading

 

 

 

 Hebrews 5:1-6
Every high priest has been taken out of mankind and is appointed to act for men in their relations with God, to offer gifts and sacrifices for sins; and so he can sympathise with those who are ignorant or uncertain because he too lives in the limitations of weakness. That is why he has to make sin offerings for himself as well as for the people. No one takes this honour on himself, but each one is called by God, as Aaron was. Nor did Christ give himself the glory of becoming high priest, but he had it from the one who said to him: You are my son, today I have become your father, and in another text: You are a priest of the order of Melchizedek, and for ever.


Gospel Reading

 

 Mark 10:46-52
As Jesus left Jericho with his disciples and a large crowd, Bartimaeus (that is, the son of Timaeus), a blind beggar, was sitting at the side of the road. When he heard that it was Jesus of Nazareth, he began to shout and to say, 'Son of David, Jesus, have pity on me.' And many of them scolded him and told him to keep quiet, but he only shouted all the louder, 'Son of David, have pity on me.' Jesus stopped and said, 'Call him here.' So they called the blind man. 'Courage,' they said 'get up; he is calling you.' So throwing off his cloak, he jumped up and went to Jesus. Then Jesus spoke, 'What do you want me to do for you?' 'Rabbuni,' the blind man said to him 'Master, let me see again.' Jesus said to him, 'Go; your faith has saved you.' And immediately his sight returned and he followed him along the road.
---
Sunday Reflection 30th Sunday in Ordinary Time

There Is Only One 'Way'
God's Word does not have a BBD - a 'Best Before Date'. Once revealed, God's Word is timeless in both its message and application. Jeremiah is correctly labelled an Old Testament prophet. But, while his life and ministry is dated, God's revelation of his intentions, made through Jeremiah, are not. Therefore, through prayer and with a contemporary, as opposed to historical, mindset we ask for the grace to understand how God's Word, through Jeremiah (31:7-9) in this Sunday's First Reading, is finding expression today.
There are contemporary Jews who see the establishment of the State of Israel on 14th May 1948 as the fulfilment of Jeremiah's prophecy. Other Jewish leaders would disagree to the extent of refusing to set foot in the land. For these latter, Jeremiah's prophecy is still being fulfilled. For them, it is God who will repatriate the diasporan Jews to a homeland not the Israeli military or the United Nations:
"Behold, I will bring them back from the land of the north; I will gather them from the ends of the world, with the blind and the lame in their midst, the mothers and those with child; they shall return as an immense throng. They departed in tears, but I will console them and guide them; I will lead them to brooks of water, on a level road, so that none shall stumble. For I am a father to Israel, .."
Moreover, God chooses the most vulnerable - in 20th century terminology, the most disposable members of society - the homeless and stateless, the lame, the blind, mothers to be, orphans, mothers with children. If there were ever an assembly needing God's protection as they seek a safe homeland, these are they. God chooses the 'remnant of Israel' not the power-hungry and rich. God chose and is choosing what our contemporary culture might refer to as 'the left-overs' to be cared for. In any size of gathering he attends, Pope Francis seems drawn to these very people. His actions exemplify God's words. One question posed by the Jeremiah reading for us is, do my actions exemplify God's choice?
Once, a pupil said in response, "But I don't know any Jews. They don't seem to live in my area." God's choice of people, to carry forward his plan for humanity, is not limited to the ethnic race that he has chosen or a Church of his adopted daughters and sons. Equally, his choice is rarely for the quick of mind or the strong of body. Rather, his choice is for the less able, the weak and the young. St. Paul puts it this way in I Corinthians:
"But God chose the foolish things of the world to shame the wise. He chose the weak things of the world to shame the strong." (1:27)
God chooses the people the world may deem redundant to bring about the fulfilment of prophecy in any given era as well as being the bearers of his Divine blessing. From the vantage point of the 21st. century it is impossible to miss the connection with the millions of displaced and stateless people migrating to where, they believe and hope, life can thrive. These migrating people do not have doctorates or wealth, perhaps not even the strength to replenish their ageing populations. History is full of God's inversions of society's established values. For those who desire to be included in God's family, the message remains clear.
Bartimaeus recognised his plight as being deeper than physical blindness (Mark's Gospel (10:46-52). Bartimaeus was "beside the road" - beside is different from being on 'the way' of Jesus Christ. In our world countless people are moving 'beside the way/road' of Jesus without being aware of his nearness? They do not recognise him in his 'remnant' attire and status. The phrase, 'so near and yet so far' comes to mind.
The cry, at the Last Judgement, of a sighted people who failed to see comes to mind:
"'Lord, when did we see you hungry or thirsty or a stranger or needing clothes or sick or in prison, and did not help you?'
"He will reply, 'Truly I tell you, whatever you did not do for one of the least of these, you did not do for me.'"
(Matt.25:44-45)
Bartimaeus' awareness of his deeper blindness was indicated in his shouting out: "Jesus, son of David, have pity on me." There was an inner depth to that shout that Jesus heard, despite all the noise around him. Jesus stopped, called Bartimaeus and asked him the same question he had asked James and John: "What do you wish me to do for you?" They had wanted preferential seats in the Kingdom. How different was Bartimaeus' response: "Master, let me see again."
Did the 'again', in Bartimaeus' answer, indicate that, at some time in his life, he had been sighted? Or, was Bartimaeus confessing to Jesus his failure of faith in God in the course of his life? Was Bartimaeus inwardly aware that this 'Son of David' was indeed the promised Messiah? If so, was Bartimaeus asking for a replenishment of faith and promising that, were his request to be granted, he would live out his gratitude through his faithful following of Jesus? As one who had himself existed 'beside the road', Bartimaeus would indeed have eyes for others who were trapped 'beside the road'?
Such was the depth of Bartimaeus' faith that it enabled Jesus to say: "Go your way; your faith has saved you." On other occasions when he had restored sight, Jesus had either touched the blind man's eyes (Mark 8:23) or sent him to wash in the Pool of Siloam (John 9:7). On this occasion there was neither contact nor directive. Is this a further indication of an inner healing that was manifested in a restoration of vision? Mark tells us that Bartimaeus: "Immediately received his sight and followed Jesus on the way."
Bartimaeus' request was what Jesus had longed to hear. It was one that he could grant only to a person who had both a depth of faith and spiritual courage. Scripture scholars tell us that in the 'Kyrie eleison'/the 'Lord, have mercy' dialogue at Mass there is the echo of Bartimaeus' shout. When we speak or sing that acclamation, is our depth of faith audible in the heart of Jesus who is present in the community? Being in a church building does not imply that we are 'being the Church' of our Baptism wherever we are, just as being beside the road is different from being with Jesus 'on His way'.
Are we able to find a reflection of the Bartimaeus incident today in Pope Francis' 'Evangelii Gaudium'? That when we are tempted to keep the Lord's wounds at arm's length, Jesus is inviting us to engage with the human misery and suffering of others: "…that we will stop looking for those personal or communal niches which shelter us from … human misfortune and … enter into the reality of other people's lives" (Para 270). The very ways in which we see ourselves as gifted are the very ways in which we are a gift for others in their need.
---
Pastoral Letter

My dear brothers and sisters in Christ,
Last month the Bishops of England and Wales went to Rome for a visit and pilgrimage known as the Ad Limina Apostolorum (to the Threshold of the Apostles). Every seven or eight years or so each national hierarchy is called to Rome to give an account of what they are doing. It is not just reporting to the Pope and the heads of Vatican departments, it is also an opportunity to listen to each other. The different departments of the Vatican listened to us. Pope Francis listened to us too, and of course we listened to him.
This listening is at the heart of his authority. It is the way Pope Francis lives out one of the titles of the Pope - the servant of the servants of God. It is sometimes hard to imagine the Pope as a servant, even Pope Francis who has done away with much of the trappings that surround the Pope - but that is what he is, a servant. That is something of what Jesus was talking about in the Gospel today. He was saying that people in authority are to be servants of His people. True authority is lived out in service and that turns the way the world thinks on its head. Jesus saw authority as a way of service, to promote the good of others rather than to promote one's own honour and glory. This is at the very heart of all our Christian service, as we each try to imitate Jesus in our daily lives.
The only way I can live out my calling to service as your Archbishop is by listening. I need to hear the hopes and fears of our people, the challenges facing our priests and deacons, our schools, and the reality our families have to deal with each day. I have decided to call a Synod to help us to meet some of the pressing issues that we face at this time in the life of the Archdiocese. How are we to witness to the Gospel message of God's love in a culture that seems to have little room for faith? How can we better organise our resources of priests, deacons, people, buildings so that we can become the Church that God is calling us to be? How can we best support the work of Catholic education so we pass on our faith to the next generation? How can our Catholic lives be better supported by the ministries of the Church?
The word Synod means "Together on the Way". The Synod is a moment when together we can choose a path to walk on, guided by the voice of the Holy Spirit who will speak to us. The Synod is not just another meeting. It is a journey. We have just had a year of prayer which reached its climax for us in the Eucharistic Congress. Over the next two years we will be trying to discover the will of God through listening and learning. The voice of each one of us needs to be heard. Parishes and pastoral areas will be invited to choose members for the Synod. I hope that there will be many different opportunities for all of our people to share their hopes, their fears and their dreams of the way the Holy Spirit is at work among us to bring fresh life into our Church.
In October 2020 our Archdiocese - priests and people together - will meet to reflect on what we have heard and vote on specific proposals that have arisen from the discussion and sharing in our parishes and pastoral areas. I have decided to work in this way because we believe that the Holy Spirit is at work in the bishops, priests and people of the Archdiocese. So, I need each one of you to play your part in our Synod process. Without you, we will not hear the call of God guiding us and walking with us on our journey.
You will be given the chance to learn more about the Synod in the months to come. There is a leaflet available today which is for all of us. Please do your best to pass a copy of this leaflet on to people who may not get one from Church. The leaflet has an invitation to a meeting near you to tell you more about the Synod and how we can get involved.
I will officially convene the Synod at a special service in the Cathedral on Sunday 3 February next year. All five hundred members of the Synod will be present at this service. From here they will be sent out to do their work of listening, reflecting and discerning, supported by the prayers of all of us. I need your help so that we can truly be a Church that listens. We all have members of our families, neighbours and friends who are Catholics, but have little contact with our parishes. Is it possible for us to listen to their experiences and their needs so that we can be a Church that serves them too? We are going to try to listen to our young people, to families with children, to those who work in our schools. What will our Church be like for them in twenty or thirty years' time? We want to hear the experiences of those who may have made their home in our parishes only recently and to learn how we can welcome them in a better way. In all this listening and learning, let's pray that we might hear a call from God to change, to try to be His Church in a new way.
The letter to the Hebrews, our second reading today, speaks to us of God who walks with us; a High Priest who feels our weaknesses with us. It speaks of the power of prayer, reminding us that we never approach the throne of God in vain. As we prayed in the Psalm today: 'May your love be upon us, O Lord, as we place all our hope in you.'
Today is also World Mission Day. We are invited to reflect on the call of God to be His missionary disciples. God's gifts are not given to us to be hoarded but to be shared. Please keep in your prayer the work of all those who seek to share the Gospel message across the world.
Today, with real enthusiasm in my heart, I invite you all to join in the journey which will enable us to become the Church that God is calling us to be - that is our Synod 2020 journey!
Most Reverend Malcolm McMahon OP
Archbishop of Liverpool