Contents: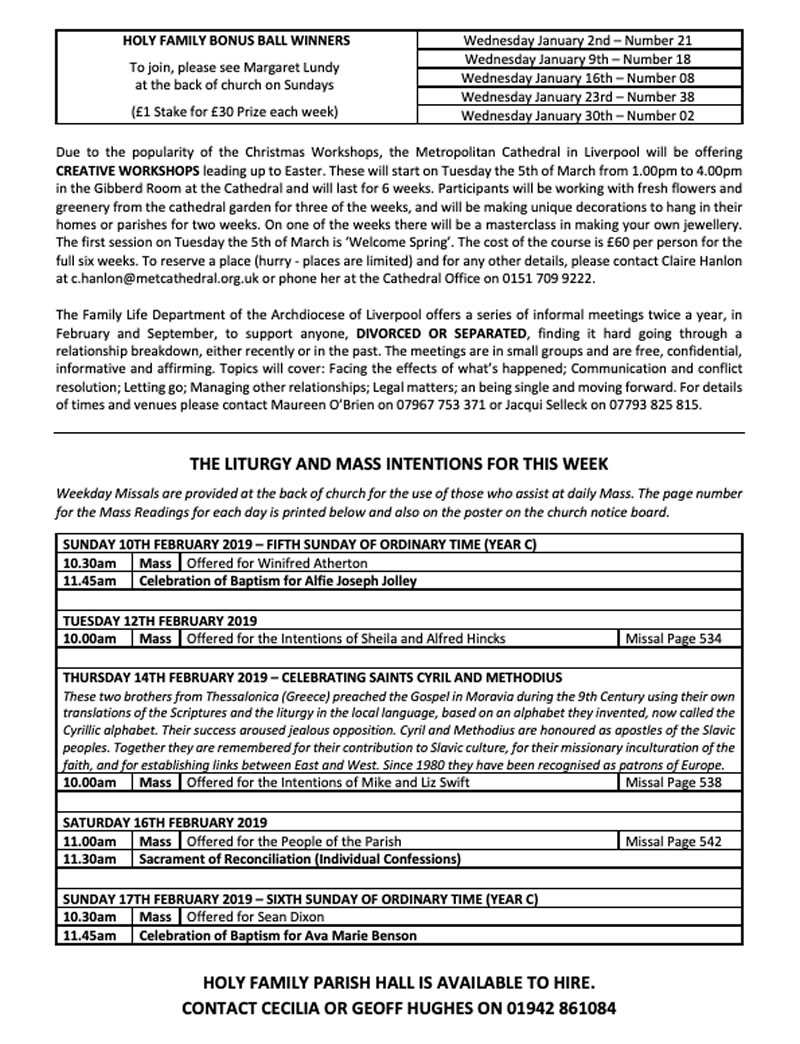 ---
---
This Sunday's Readings


First Reading

 

                           Isaiah 6:1-8
In the year of King Uzziah's death I saw the Lord seated on a high throne; his train filled the sanctuary; above him stood seraphs, each one with six wings. And they cried out one to another in this way, "Holy, holy, holy is the Lord of hosts. His glory fills the whole earth." The foundations of the threshold shook with the voice of the one who cried out, and they Temple was filled with smoke. I said: "What a wretched state I am in! I am lost, for I am a man of unclean lips and I live among a people of unclean lips, and my eyes have looked at the King, the Lord of hosts." Then one of the seraphs flew to me, holding in his hand a live coal which he had taken from the altar with a pair of tongs. With this he touched my mouth and said: "See now, this has touched your lips, your sin is taken away, your iniquity is purged." Then I heard the voice of the Lord saying: "Whom shall I send? Who will be our messenger?" I answered, "Here I am, send me."


Second Reading

 

                      I Corinthians 15:1-11
Brothers, I want to remind you of the gospel I preached to you, the gospel that you received and in which you are firmly established; because the gospel will save you only if you keep believing exactly what 1 preached to you - believing anything else will not lead to anything. Well then, in the first place, I taught you what I had been taught myself, namely that Christ died for our sins, in accordance with the scriptures; that he was buried; and that he was raised to life on the third day, in accordance with the scriptures; that he appeared first to Cephas and secondly to the Twelve. Next he appeared to more than five hundred of the brothers at the same time, most of whom are still alive, though some have died; then he appeared to James, and then to all the apostles; and last of all he appeared to me too; it was as though I was born when no one expected it. I am the least of the apostles; in fact, since I persecuted the Church of God, I hardly deserve the name apostle; but by God's grace that is what I am, and the grace that he gave me has not been fruitless. On the contrary, I, or rather the grace of God that is with me, have worked harder than any of the others; but what matters is that I preach what they preach, and this is what you all believed.



Gospel Reading

 

           

 

           Luke 5:1-11
Jesus was standing one day by the lake of Gennesaret, with the crowd pressing round him listening to the word of God, when he caught sight of two boats close to the bank. The fishermen had gone out of them and were washing their nets. He got into one of the boats - it was Simon's - and asked him to put out a little from the shore. Then he sat down and taught the crowds from the boat.
When he had finished speaking he said to Simon, "Put out into deep water and pay out your nets for a catch." "Master," Simon replied, "we worked hard all night long and caught nothing, but if you say so, I will payout the nets." And when they had done this they netted such a huge number of fish that their nets began to tear, so they signalled to their companions in the other boats to come and help them. When these came, they filled the two boats to sinking point.
When Simon Peter saw this he fell at the knees of Jesus saying, "Leave me, Lord; I am a sinful man." For he and all his companions were completely overcome by the catch they had made; so also were James and John, sons of Zebedee, who were Simon's partners. But Jesus said to Simon, "Do not be afraid; from now on it is men you will catch." Then, bringing their boats back to land, they left everything and followed him.
---
Sunday Reflection 5th Sunday in Ordinary Time

The Purgation of Sin

For those with long memories the word 'purge' can recall past horrors. People associate 'purges' with dictators like Stalin and Hitler. But that is only one, albeit tragic and frightening, association for the word. A purgation is essentially a cleansing or purification process. People book into 'health farms' for a purgatorial constitutional cleansing to restore and promote their bodily health and physical wellbeing.
Someone once said that 'a cleansing of the soul' is the single most loving and powerful act of service you can perform for the wellbeing of all life on earth. How does a 'cleansing of the soul' differ from a purgatorial constitutional cleansing? The Catholic Church teaches that Baptism endows us with Divine adoption and, in so doing, frees us from whatever sin, or none in the case of an infant, may have accumulated up to that point. Baptism readies us, as it were, for our purgatorial journey of life on earth as a prelude to, please God, our life with Him in the eternity of heaven.
Why should we consider our life on earth to be purgatorial? Because, though freed from Original sin at Baptism, we are born into a sin-polluted world. All humanity inherits the weakness of sin which results from the disobedience of our first parents. The sole exception is Mary, The Immaculate Mother of God-made-Man. Jesus, her Son, who though without sin, took to himself our human nature with all its accumulated sinfulness. His mission was to make amends to his Father on our behalf. A 'restitution' that we were unable to make. Thereby Jesus enabled us to be reconciled with his heavenly Father.
Baptism also brings us the new enhancement of adoption. Being Jesus' adopted sisters and brothers, we are called to join him in his continuing mission to reconcile humanity with God and with one another. The former being impossible without the latter. The process of purgation is the making of amends, the making of restitution, for whatever humanity has chosen to do, or omit doing, that has offended God and harmed our brothers and sisters. Whenever we offend God we injure our brothers and sisters too, for we are one Body. As St. Paul wrote to his beloved Corinthians:
"If one part suffers, every part suffers with it; if one part is honoured, every part rejoices with it." (1 Cor.12:26)
Jesus called us to this mission of restitution when he said: "A new command I give you: Love one another. As I have loved you, so you must love one another. By this everyone will know that you are my disciples, if you love one another." (John 13:34-35)
Jesus emphasises how we are to love one another with his words: "As I have loved you" which is the less quoted part of the text. Jesus' pilgrimage of purgation led him to Calvary and the Cross. Countless of his adoptees, over the centuries since and continuing in our day, have experienced death through suffering and persecution. We call them martyrs for their faith.
The First Reading for this 5th Sunday, reminds us that the nearer we grow towards God the more we become aware of our own sinfulness. The testaments of the Saints emphasise this truth repeatedly. Isaiah's words have found an echo in the lives of believers, uninterruptedly, right up to our own day:
"Woe is me, I am doomed! For I am a man of unclean lips, living among a people of unclean lips; yet my eyes have seen the King, the Lord of hosts!" (6:1-2,3-8)
Conversely, the greater distance we move from God the less aware of our sinfulness. Satan schemes to keep us, recovering sinners that we are, as distanced from Jesus Christ as possible. He sells us the falsehood that because we are sinners, we are not able to approach God. The life of Jesus tells us the complete opposite. He forever associated and continues to associate with sinners. Today he does so through us, his Baptised family of recovering sinners. Jesus calls sinners repeatedly to himself and heals each who accepts his healing. It is appropriate to recall that even up to his last breath on Calvary's Cross, Jesus healed one of those crucified with him while the other, as far as we know, refused his healing.
The only qualification we need for receiving God's healing love is in accepting ourselves as being recovering sinners. Isaiah's acceptance of his 'purging' gave him the confidence to offer himself to God.
"Then one of the seraphim flew to me, holding an ember that he had taken with tongs from the altar. He touched my mouth with it, and said, "See, now that this has touched your lips, your wickedness is removed, your sin purged."
Do we too easily fail to implement the intended effect of God's healing? When we receive the Sacrament of Reconciliation we are given a penance, usually in the form of a prayer. But is that, truly, the making of amends? The implementation of the 'firm purpose of amendment' begins with the absolution we receive in the Sacrament but it should continue with each breath we take thereafter. This should lead us to willingly collaborate with God, like Isaiah, in offering ourselves to Him for missioning. Satan will do his best to delay and distract us from making any such offering.
Every single sinner whom Jesus healed, he missioned or, if you prefer, commissioned to preach the Gospel. We do not know how or if each lived out his or her vocation. That is not our primary concern. Our mission, our Baptismal vocation, is to live each day for God and for others. It is in persevering as 'recovering sinners' that we make amends to God and to those whom we may have failed.
Baptism also calls us to collaborate with Jesus in making amends to His Father, who is also our Father, for the destructive sin that is rampant in this world. Neither age, nor state of health, nor location or financial situation are barriers preventing us from joining Jesus in his and our mission to the world. As Jesus reminds us:
"My Father is always at his work to this very day, and I too am working." (John 5:17)
Purgation is a painstaking, laborious work of collaboration with the Holy Spirit in the struggle for souls who have inhaled the excesses of our world that is in the grip of Satan:
"We are well aware that we are from God and the whole world is in the power of the Evil One." (1John 5:19)
The spiritual pilgrimage of purgation is the making good of what belongs to God that has been willfully damaged by humanity.
In this Sunday's Gospel (5:1-11) Luke tell us of Peter, faced with a daytime catch of fish that defied all that was known about fishing, echoing Isaiah's words:
"Depart from me, Lord, for I am a sinful man."
Despite his very public weaknesses, Jesus called the repentant Peter, the fisherman, to a very specific ministry. In effect, Jesus called Peter to deputize for him.
"You are Peter and, on this rock, I will build my Church …" (Matt.16:18)
Despite our many imperfections, each Baptised person is called to deputize for Jesus, not as the Pope, but as the accompanist, in Christ's Name, for whomsoever the Baptised is linked with on a day by day basis. If you flinch at the seeming restriction of 'each Baptised person', Jesus reminds us in Matthew's Gospel (22:14): "Many are called but few are chosen". Everyone is called but only those who offer a truthful and loving response, however fragile, are eligible to be chosen.
---
From the Archbishop's desk: February 2019

By Most Rev Malcolm McMahon OP, Archbishop of Liverpool

During a recent visit to Rome I was struck by the youthfulness of the Church. I don't think this is simply because I am getting older; there just seemed to be young people everywhere I looked.

The young servers in the sacristy at St Peter's greeted me with a smile, and the Vatican officials looked very young to me, as did the Swiss Guards. The columns of children weaving their way round the exhibition of 100 cribs, the young men preparing for the priesthood at the English College and the not-so-young men at the Beda College, indicated a new spirit at the heart of the Church which filled me with hope for the year ahead.

This caused me to reflect on the Church in our own Archdiocese, and I quickly came to the realisation that our local Church is youthful too. Our splendid Catholic schools are full of young people engaged with the Church in new ways, especially the Faith in Action project. The Animate team does what its name suggests and enlivens the spirit within our young Catholics. In so many of our parishes, moreover, young people's liturgies and 'little church' are common.

Yes, even though February is a gloomy month, I feel uplifted by the spirit of youthfulness which is prevalent in the Church.

In one sense the Church, though ancient, is always new because the Holy Spirit lives in us. Pope Francis has this spirit of youthfulness and it emanates from him to us. Despite his years and some health problems, he remains young at heart. His example could be something to help us during these difficult days for our country. Let us be inspired by our young people to keep our spirits high.